Ambient Waves Audio CD: Summer at Sailfish
The expertly recorded sounds of waves crashing on the beach.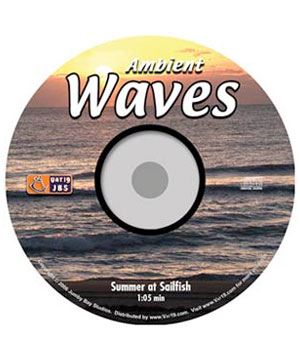 $9.99
This item has been discontinued.
You may also like:
$14.99
$9.99
Overview
The Ambient Waves CD is a 65-minute continuous beach-front aural experience. These are not sound effects loops. We meticulously recorded this CD on the private and secluded beaches of Sailfish Point in southern Florida.

Imagine relaxing on the white sandy beaches of your dreams with the Ambient Waves CD.
Features & specs
No Annoying Birds
No Music
No SFX Loops
TRT: 65 minutes
This item is a Vat19 exclusive!
The soothing sounds of waves expertly recorded
The secluded beaches of Sailfish Point are the setting for this soothing nature CD. The sounds of waves slowly crashing on the summer shores of Sailfish were exquisitely recorded by the professionals at Vat19.com.
The Ambient Waves CD has no music or annoying sound effects loops to disrupt your immersive aural experience. It's pure waves exactly as they are in nature. This is not a five minute sound effect that has been looped countless times.
The Ambient Wave CD is 65 minutes long and contains one continuous track for disruption-free relaxation.
The sample below is approximately 1 minute long.
If you do not see a player above, please try the mp3 link.
This product has been discontinued. Frown face!
Sorry, but this item is no longer available for purchase.
Burning Questions: You Ask, We Answer
Your questions that have been answered by the Vat19.com staff:
Sort by: Show Only:
Want to ask your own Burning Question?
Unfortunately, this product is not currently available for purchase. Therefore, we cannot accept any new burning questions. Sorry!