Gummy Tarantula
A large, detailed grape arachnid.
You may also like:
Overview
Depending on your culture, spider cuisine is either best served in a fine restaurant or on gross-out reality shows. But no matter where you live, a spider made of gummy is always delicious.

The Gummy Tarantula is over a fifth-pound of gummy impressively molded into the famously-creepy arthropod. The segmented body has all of the disgusting details that give you the willies: lines for those gross little hairs on its back, bumps for its crazy eyes, and two jutting pieces for its fangs (yuck). These little touches make it a perfectly creepy decoration for your snack table.

Even if spiders aren't your thing, your tongue will enjoy the taste of this tantalizing tarantula (unless you have a phobia of delicious grape candy).
Features & specs
Gummy styled like a tarantula
Flavor: grape
Net Wt.: 3.5 oz (99.2 g)
Approx. dimensions: 4.25" x 4.25" (10.79 cm x 10.79 cm)
Gluten- and fat-free
Made from pork gelatin (not vegetarian, kosher, or halal)
Made in the USA
Ingredients: corn syrup, sugar, water, gelatin, artificial & natural flavors, pectin, vegetable oil, soybean oil, carnauba wax, FD&C red #40, blue #1, lecithin from soybeans, coconut oil, palm oil, and rosemary extract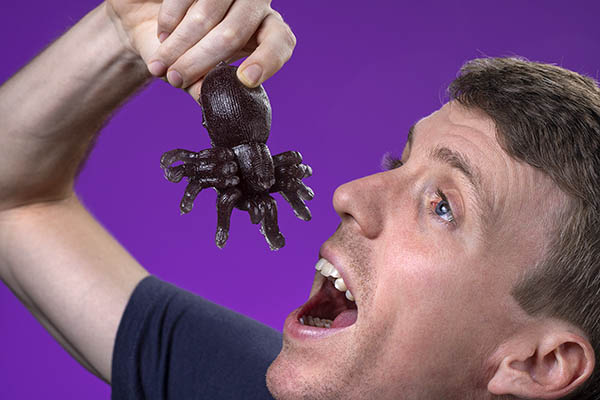 Love our videos? Please subscribe to our YouTube channel:
Burning Questions: You Ask, We Answer
Your questions that have been answered by the Vat19.com staff:
Sort by: Show Only:
Want to ask your own Burning Question?

First, please watch the

video

to the right. It explains the Burning Question feature and answers some common questions.

Now, if there is something that you need to know about this product that we've omitted, please send us an anonymous question and we promise to answer it within 1 business day.