Gummy Tarantula
A large, detailed grape arachnid.
You may also like:
Overview
Depending on your culture, spider cuisine is either best served in a fine restaurant or on gross-out reality shows. But no matter where you live, a spider made of gummy is always delicious.

The Gummy Tarantula is over a fifth-pound of gummy impressively molded into the famously-creepy arthropod. The segmented body has all of the disgusting details that give you the willies: lines for those gross little hairs on its back, bumps for its crazy eyes, and two jutting pieces for its fangs (yuck). These little touches make it a perfectly creepy decoration for your snack table.

Even if spiders aren't your thing, your tongue will enjoy the taste of this tantalizing tarantula (unless you have a phobia of delicious grape candy).
Features & specs
Gummy styled like a tarantula
Flavor: grape
Net Wt.: 3.5 oz (99.2 g)
Approx. dimensions: 4.25" x 4.25" (10.79 cm x 10.79 cm)
Gluten- and fat-free
Made from pork gelatin (not vegetarian, kosher, or halal)
Made in the USA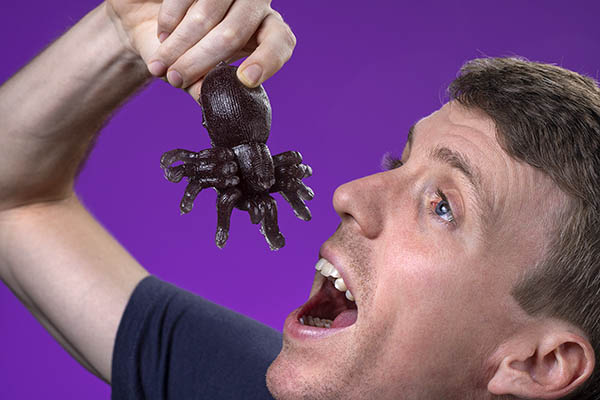 Love our videos? Please subscribe to our YouTube channel:
Where can I buy this awesomeness?
Ingredients: Corn syrup (from corn), sugar (from beets), water, gelatiin, citric acid, artificial flavor, pectin (derived from fruits), vegetable oil (coconut, canola) and carnuaba leaf wax (to prevent sticking), FD&C Red #40, blue #1, palm oil, soy lecithin (prevents sticking), dimethyl silicone (anti foaming agent)
Allergen Statement: Contains Soy
Halal: No See all Halal
Gluten Free: Yes ✔ See all Gluten Free
Kosher: No See all Kosher
Nutrition Facts
Serving Size (about 40 g)
Serving Per Container 3
Amount Per Serving
Calories 120
Calories from Fat 0
% Daily Value*
Total Fat 0g
0%
Saturated Fat 0g
0%
Trans Fat 0g
Cholesterol 0mg
0%
Sodium 10mg
0%
Total Carbohydrate 29g
10%
Dietary Fiber 0g
0%
Total Sugars 19g

Includes 17g added sugars

Protein 2g
Burning Questions: You Ask, We Answer
Your questions that have been answered by the Vat19.com staff:
Sort by: Show Only:
Want to ask your own Burning Question?
This product is no longer available for purchase directly from Vat19. Therefore, we are no longer accepting new burning questions at this time. Sorry!