Money Origami Set with Book and DVD
Learn to create 21 origami projects utilizing only dollar bills.
Videos

Watch video for: Money Origami Set
Overview
If you've got a dollar in your pocket, you can stop boredom in its tracks. No, we're not talking about penny slots. We're talking about Money Origami! With this instructional gift set, you'll learn how to fold dollar bills into 21 fun and interesting designs.

The Money Origami Kit includes a 64-page book that features easy-to-follow color illustrations. It is accompanied by a two-hour instructional DVD hosted by the authors of the book as they demonstrate their money folding designs step-by-step. So, whether you prefer learning from a book or from a video, the Money Origami Set has you covered.

To help you learn how to fold money into airplanes, butterflies, stars, cubes, boxes, serpents, napkin rings, and more, a set of 60 practice dollars is included. Note: "Practice dollars" means fake dollars.
Features & specs
Dimensions: 8.5" x 8.5" x 1.25"
Learn 21 money origami projects
64 page step-by-step instructional booklet
2-hr instructional DVD with step-by-step demonstrations
Includes 60 practice dollar bills
Authors: Michael G. Lafosse and Richard L. Alexander
You may also like:
Love our videos? Please subscribe to our YouTube channel:
Learn interesting and unique money-folding techniques
Traditional origami is performed with square sheets of paper. But, since most of us don't walk around with square-shaped currency in our pockets, the architects of the Money Origami Kit had to come up with designs tailored to US currency.
What you'll find in the Money Origami Kit is a wonderful collection of sculptures with something for everyone. Use this kit to learn a new hobby, kill a little boredom, and discover a creative way to give money as a gift.

Make the most of your dollar bills with the Money Origami Set.
Includes 21 fun and creative origami projects
With the Money Origami Set, you can learn to create the twenty-one origami designs pictured below. The designs range from fairly simple to challenging. Both beginners and experienced folders will enjoy this kit.
From left to right, the designs are:
Four-dollar tall box, cube box with lid, five-pointed five-dollar star, wheel of fortune, dollar bill butterfly, thistle, angel ornament, jumping frog (with eyes), Mr. Bill Green, stand-up shirt, George napkin ring, business card holder, "eye" ring, monkey face ring, three-dollar step pyramid, Haverhill high-top shoe, duckbill plane, Chinese dragon/sea serpent, x-wallet, rectangular box with lid, and lighting bolt favor.

You'll learn to fold the 21 origami designs pictured above with the Money Origami Kit.
Master each design with the included practice dollar bills
The Money Origami Kit includes sixty practice dollar bills. While you could use them to hone your "making-it-rain" skills, their primary purpose is to help you master the money folding techniques outlined in the kit.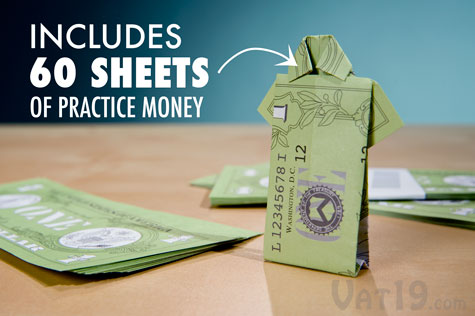 Practice your folding with the sixty "counterfeit" bills.
Learn quickly from the instructional booklet and DVD
At Vat19.com, we're visual learners. So, we love that there is a DVD included in the Money Origami Kit. We found it easy to learn the designs by watching the two authors (Michael Lafosse and Richard Alexander) perform step-by-step demonstrations of each design.
Alternatively, you can reference the 64-page booklet which includes detailed instructions and diagrams for each of the 21 origami sculptures.

The Money Origami Kit includes both an illustrated booklet and instructional DVD.
Where can I buy this awesomeness?
Burning Questions: You Ask, We Answer
Your questions that have been answered by the Vat19.com staff:
Sort by: Show Only:
Want to ask your own Burning Question?

First, please watch the

video

to the right. It explains the Burning Question feature and answers some common questions.

Now, if there is something that you need to know about this product that we've omitted, please send us an anonymous question and we promise to answer it within 1 business day.
Please excuse the shameless cross promotions!