Snap Frames (set of 9)
Photo frames styled after instant camera film.
You may also like:
$39.99
$18.99
Overview
Instant cameras achieved worldwide fame with the introduction of the Polaroid SX-70 in 1972. Photos would spit out from the camera and develop in broad daylight! Pay homage to this breakthrough in photography with Snap Frames.

Styled after the iconic SX-70 film, Snap Frames will hold a 3.5" x 3.5" photo and can be mounted to the wall via pushpins or double-sided tape (both included). Each set of Snap Frames includes nine curved frames.
Features & specs
Dimensions (photo area): 3.5" x 3.5"
Dimensions (frame): 4" x 4.75" x 0.375"
Curved design
Includes pushpins and double-sided tape for mounting
Includes 9 frames per set
Watch our Snap Frames (set of 9) video
Love our videos? Please subscribe to our YouTube channel:
Picture frames styled after Polaroid® film!
If you've ever taken a picture with a Polaroid® instant camera, you know how much fun it is to watch it develop in front of your eyes.
Capture that sense of joy with these whimsical picture frames styled after the iconic instant film.
Each Snap Frame holds a 3.5" x 3.5" picture.

Each Snap Frame holds a 3.5" x 3.5" photo.

Crop your photo, slide it into the frame
To display a photo in the Snap Frame, cut it to 3.5" x 3.5" and then slide it into the top of the frame. Simple!

Slide pictures in and out from the top of the Snap Frame.

Easy to mount with the included pushpins
The back of each Snap Frame features a plastic coupling for two different mounting methods. You can either attach a metal pushpin or a small, double-sided adhesive tab. The Snap Frames set comes with nine pushpins.

Use the included pushpins to mount the Snap Frame to a wall.

Quickly stick to the wall with double-sided tape
Each set of Snap Frames comes with a small sheet of 27 sticky circles so you can adhere the frame to the wall. You could also use some of our super strong (and removable!) double-sided tape (wink, wink).

Snap Frames come packaged with a set of double-sided adhesive tabs.

Caption your photos!
Label a special occasion or tickle your funny bone by captioning your Snap Frames. Use a dry erase marker (sorry, not included) in case you change your mind later.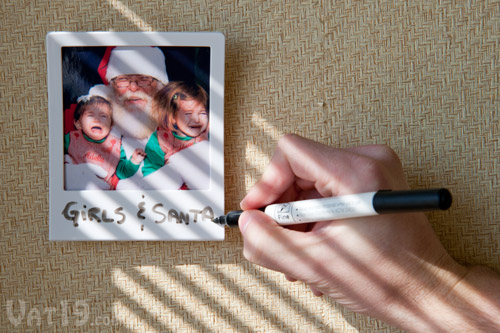 Add a message to your photos with a dry-erase pen (not included).

Includes nine frames per set
Each order of Snap Frames includes nine units as well as the pushpins and adhesive tabs for mounting.

Your order of Snap Frames includes nine frames.

Frequently Asked Questions
Question: These look a lot like Polaroid® film! So, why are they called "Snap Frames"?
Answer: Lawyers.
Question: Why are they curved?
Answer: Style!
Question: What's with the one word answers?
Answer: Instant answers, get it?! Yeah, bad joke.
Where can I buy this awesomeness?
Burning Questions: You Ask, We Answer
Your questions that have been answered by the Vat19.com staff:
Sort by: Show Only:
Want to ask your own Burning Question?
This product is no longer available for purchase directly from Vat19. Therefore, we are no longer accepting new burning questions at this time. Sorry!