Chopstick Folding Baskets
Unique collapsible baskets made from recycled chopsticks.
You may also like:
$20.99
From $9.50 to $9.99
Overview
Over a billion chopsticks are thrown in the trash every year. Chopstick Folding Baskets eliminate some of this excess waste by turning the discarded utensils into functional art.

Collected from restaurants and thoroughly cleansed and sanitized, dozens of chopsticks are crafted by hand into these intricate, space-saving folding baskets. Hold fruit, serve baked goods, and display seasonal decorations. Available in several sizes.
Features & specs
Dimensions (Large): 14" x 12" x 4"
Dimensions (Medium): 14" x 8" x 3"
Material: post-use chopsticks from restaurants (sanitized, of course!)
Cleansing method: extremely high temperature and pressure
Watch our Chopstick Folding Baskets video
Love our videos? Please subscribe to our YouTube channel:
Unique collapsible baskets made from recycled chopsticks
Annually, over a billion single-use chopsticks are thrown away across the globe. These beautiful Chopstick Folding Baskets are created using these discarded utensils.
Of course, the chopsticks are cleaned and then sanitized at extremely high temperatures and pressures. Once squeaky clean, they are then crafted into a beautiful folding design.

The unique Chopstick Folding Basket is crafted from post-use chopsticks that have been thoroughly sanitized.
Space-saving design is functional and easy on the eyes
When folded flat, the Chopstick Folding Basket is only about 8" long and 2" tall (true for both the medium and large sizes). So, it won't take up a lot of room when stowed away. Of course, when you do bust out this basket (which should be daily!), you'll appreciate its eco-friendly and stylish design.

The Chopstick Baskets fold flat for storage and open easily to hold fruits and baked goods.

These ain't no wimpy baskets
On its own, I wouldn't trust a single chopstick over a samurai sword if I found myself in a knife fight. However, when properly configured, these recycled chopsticks create one tough basket.
Despite each individual chopstick being rigid, the complete design is quite flexible. It cradles a ten-pound weight without the slightest hint of strain.

The Chopstick Folding Basket is much stronger than the sum of its parts.

Unique serving bowl
It's true that all baskets or bowls will equally perform the task of simply holding stuff. But, the Chopstick Folding Basket is as eye catching as it is conversation starting. So, buy two (one to be eye-catching and the other to be conversation-starting!).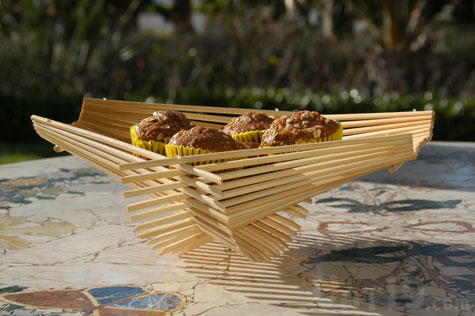 Hold your delicious baked goods in a Chopstick Folding Basket.

Display seasonal decorations
In addition to holding fruits, vegetables, and baked goods, the Chopstick Folding Basket makes a great centerpiece for holiday or everyday decorations.

Decorate a table with ornaments in your unique Chopstick Folding Baskets (hint, hint!).

Choose from two sizes
The Chopstick Folding Basket is available in two sizes: medium and large. They are both 14" long (when unfolded), but the large is four inches wider and an inch deeper than the medium size.
For display or decoration purposes, you may find the medium size to be the perfect accent piece. For holding fruit or baked goods, we suggest the large size. However, either size is adequate for any storage task.
| | | | |
| --- | --- | --- | --- |
| | Length | Width | Depth |
| Medium | 14" | 8" | 3" |
| Large | 14" | 12" | 4" |
| | |
| --- | --- |
| | |
| Medium | Large |
Where can I buy this awesomeness?
Burning Questions: You Ask, We Answer
Your questions that have been answered by the Vat19.com staff:
Sort by: Show Only:
Want to ask your own Burning Question?
This product is no longer available for purchase directly from Vat19. Therefore, we are no longer accepting new burning questions at this time. Sorry!