Energy Gummy Bears
No-crash energy-fueled gummy bear candy.
You may also like:
Overview
Energy Gummy Bears are the chewable, delicious candy bear we all know and love infused with the energy-boosting ingredients found in popular energy drinks.

Featuring natural caffeine from guarana extract, each 60-calorie pack of Energy Gummy Bears is equivalent to a single energy drink without the excessive amounts of sugar and caffeine.

Made in the USA, Energy Gummy Bears are chock-full of B-complex vitamins, antioxidants, protein, and delicious gummy flavor. Try trading out that energy drink for a pack of Energy Gummy Bears. Citrus and Berry flavors are available in single and bulk packs.
Features & specs
One pack is equivalent to one energy drink
Only 60 calories per serving
Taste really darned good
Natural (not processed) caffeine
Made in the USA
Notes on this video
0:27 - We have added an additional flavor (Berry) since this video was created.
Love our videos? Please subscribe to our YouTube channel:
Sweet gummy + natural energy = holy cow, y'all
We know what you're thinking: "Vat19, why on earth would you sell a gummy bear that could be eaten in a single bite? We thought you always do it jumbo!"
The answer is simple: We had no choice. These gummy bears make up for their diminutive size (relatively speaking, of course) with the fact that they're packed with energy. It's as if someone injected them with Red Bull.
A single pack of Energy Gummy Bears is like tossing back an energy drink without the caffeine overload. It's like having your 3-minute sugar high sustained for hours! Brilliant, indeed.

Grab a pack of Energy Gummy Bears. It's the equivalent of an energy drink, but safer!

Energy boost without crazy levels of caffeine
A lot of energy drinks load up on caffeine. Oftentimes, it's man-made or heavily processed and can be quite dangerous — especially for kids. Energy Gummy Bears use the natural caffeine found in guarana extract and far less than you'll find in an average cup of coffee.
So, if Energy Gummy Bears have less caffeine, how do they give you that awesome energy boost? Other ingredients! A combo of B-complex vitamins, antioxidants, vitamin C, natural sources of caffeine, and protein will help turn things up to 11 without crashing later.

Energy Gummy Bears are made in the USA.

Available in two flavors
Energy Gummy Bears are currently available in two delicious flavors: Citrus and Berry.
The Citrus flavor definitely has the energy drink flavor and smell with a blast of citrus. Berry, on the other hand, has less of the signature energy drink flavor. It tastes almost like pure candy.

Energy Gummy Bears are available in two great flavors: Citrus and Berry.

They taste great, y'all!
Energy Gummy Bears have the exact same chewy consistency of regular gummy bears. Of the two flavors (Citrus and Berry), Citrus definitely has that energy drink smell and taste. The Berry flavor tastes less like Red Bull and more like a berry-flavored candy.
Whichever you choose, you shan't be disappointed by the flavor of Energy Gummy Bears!

Energy Gummy Bears not only boost your mojo, but they taste wonderful, too.

Ingredients and nutrition facts
When it comes to food, you need to know what you're getting! Here's a detailed run-down of what you'll find in Energy Gummy Bears.
Please note that the information listed below is for a single pack of Energy Gummy Bears.
Item
Amount
Calories
60
Total Fat
0
Sodium
18mg
Sugars
13g
Protein
1.5g
Vitamin C
225mg
Niacin
12mg
Pyridoxine Hydrochloride
(Vitamin B6)
2mg
Folic Acid
385mg
Vitamin B12
3mg
Biotin
240mg
Pantothenic Acid
(Vitamin B5)
7mg
Taurine
36mg
Caffeine from Guarana Extract
32mg
Coenzyme Q10
8mg
Ingredients: Corn Syrup, Sugar, Gelatin, Citric Acid, Sorbitol, Natural and Artificial flavors, Guarana Extract, Ascorbic Acid (Vitamin C), D-Ribose, D-Glucuronoloactone, Taurine, Sodium Chloride, Niacin, Coenzyme Q10, Panthothenic Acid, Pyridoxine Hydrochloride (B-6), Folic Acid, Biotin, Vitamin B12, Vegetable Oil (coconut origin), Carnuba Wax (anti-sticking).
Please note that Energy Gummy Bears are manufactured in a facility where peanuts, tree nuts, soy, wheat and milk products are used in the manufacture of other products.
Warning: Energy Gummy Bears are not recommended for pregnant women, people with heart conditions or people sensitive to caffeine or niacin.
Buy in bulk and save!
Energy Gummy Bears are currently available in two styles: single packs and bulk packs. The single packs are equivalent to a typical 12-oz energy drink. The bulk packs include twelve single packs.
Each single pack includes nine gummy bears.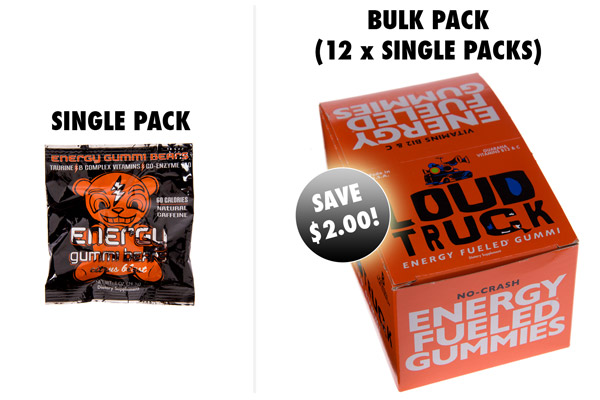 Purchase Energy Gummy Bears in bulk and save!

Frequently Asked Questions
Question: Why aren't they the size of my head? I thought you guys did it jumbo?
Answer: If we made these large, your heart would probably explode... and somehow continue to beat as it flopped around the floor.
Question: Seriously, what do they taste like?
Answer: There are currently two flavors: Citrus and Berry.
The strongest flavor in Citrus is that same flavor found in almost all energy drinks. So, if you like how Red Bull tastes, you'll love Citrus. They're the delicious candy equivalent!
The strongest flavor in Berry is definitely cherry. It has a bit of that Red Bull taste, but far less than the Citrus.
Question: Are they safe for kids?
Answer: The manufacturer explicitly states that they are perfectly safe for kids. The only danger for kids is caffeine. Based on our research, the United States has yet to establish recommended limits for kids' caffeine intake. However, Health Canada has established some baselines that we'll share. They recommend kids ages 4-6 receive no more than 45mg a day, kids ages 7-9 receive no more than 62.5mg, and kids ages 10-12 get no more than 85mg.
Each pack of Energy Gummy Bears includes 32mg of caffeine. According to Health Canada, healthy adults should not exceed 400 mg of caffeine per day.
As a reference, a 12-ounce can of Coca-Cola contains 140 calories and 34mg of caffeine.
Question: Aren't the single packs expensive for only a handful of gummy bears?
Answer: We think it's more appropriate to compare these to the cost of a 12-ounce energy drink. Instead of slurping down that Booty Sweat Energy Drink, munch on a pack of delicious Energy Gummy Bears. You'll get the same energy boost while consuming fewer calories and less caffeine. Oh, and they taste really, really good!
Question: Why is there an "A" on the bear's belly?
Answer: So you know you're eating something awesome.
Where can I buy this awesomeness?
Burning Questions: You Ask, We Answer
Your questions that have been answered by the Vat19.com staff:
Sort by: Show Only:
Want to ask your own Burning Question?
This product is no longer available for purchase directly from Vat19. Therefore, we are no longer accepting new burning questions at this time. Sorry!