InstaPhoto Coasters (4-pack)
Customizable coasters hold your favorite photos.
$9.99
This item has been discontinued.
Overview
We view most of our photos on phones and computers these days, but there's still something so fun about the old instant camera style photos: the anticipation as the image comes to life and the immediacy of holding that memory in your hands.

Sip on that retro vibe, and set a tall glass of fun on InstaPhoto Coasters – a set of 4 glass coasters with a slot on the back so you can display your favorite memories while protecting your coffee table. Just trim a printed photo to the coaster dimensions and slip it into the back to create your own customized drink plate.
Features & specs
4 glass customizable coasters
Styled like instant camera photos
Holds photos 3.3" X 3.3" (8.2cm x 8.2cm)
NOT microwaveable or dishwasher safe
You may also like:
Instantly personalized coasters
InstaPhoto Coasters are instant in two ways. First, inserting a photo is so fast and easy that you can slip one in, take a sip, and set down your drink in a single breath. And once you've added your personal photo, the coaster looks like an instant camera print!
Made four memories
What could be better than a drink coaster that looks like a developed instant photo? How about four? Each InstaPhoto Coasters set includes four tempered glass coasters to display a montage of memories.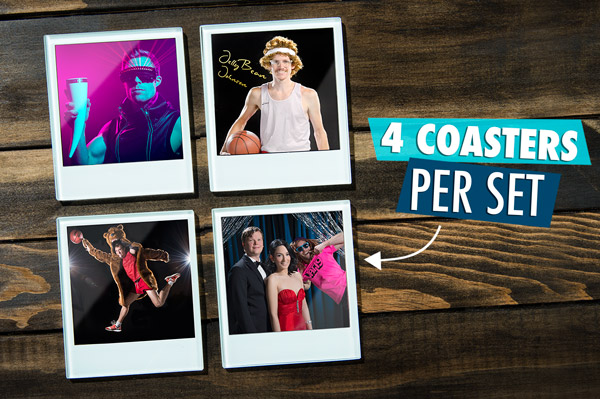 Not a water ring in sight.
Question: Does it include a mug?
Answer: The set includes four customizable coasters. You need to add your own images and your own cup.
Question: Is the material actually glass or is it plastic?
Answer: InstaPhoto Coasters are made of tempered glass with a backing made from foam and plastic.
This product has been discontinued. Frown face!
Sorry, but this item is no longer available for purchase.
Burning Questions: You Ask, We Answer
Your questions that have been answered by the Vat19.com staff:
Sort by: Show Only:
Want to ask your own Burning Question?
Unfortunately, this product is not currently available for purchase. Therefore, we cannot accept any new burning questions. Sorry!
Please excuse the shameless cross promotions!