Licky Loot Lollipop
A lollipop styled like a butterfly knife.
You may also like:

Overview
With the Licky Loot, the only mugging you'll do is a sweet smile. Flip open the handles to reveal a sucker in the shape of a blunted blade, ready for you to lap at the sweet fruity flavor of the hard candy.

Not only does the creative handle harken back to a now-forbidden childhood toy, allowing you to practice your sweet street skills as you dexterously open and close it, but it also perfectly preserves your 'pop for later consumption.

Since the sucker is sandwiched between the plastic handles when closed, you can put your licked lollipop in your pocket without causing a sticky mess. Thanks to the Licky Loot, a "stick up" now refers to your sticky treat sticking straight up in the air as you enjoy the grape, strawberry, watermelon, or blue-raspberry flavor of this fun and safe lollipop.

Note: Because we receive this item in an assortment, we must sell them randomly. You will receive either grape, strawberry, watermelon, or blue raspberry.
Features & specs
A flip-open lollipop you can enjoy now and save some for later
The hard-candy sucker inside is not blade-shaped or sharp
Available in four different flavors: blue raspberry, grape, strawberry, and watermelon
Your flavor will be selected at random
Net Wt.: 0.53 oz (15g)
Ingredients: Sugar, High Maltose Syrup, Water, Buffered Lactic Acid, Artificial Flavor, Artificial Colors (FD&C Blue No. 1, Red No. 40)
This product may contain traces of gluten, soy, peanuts, tree nuts, and seeds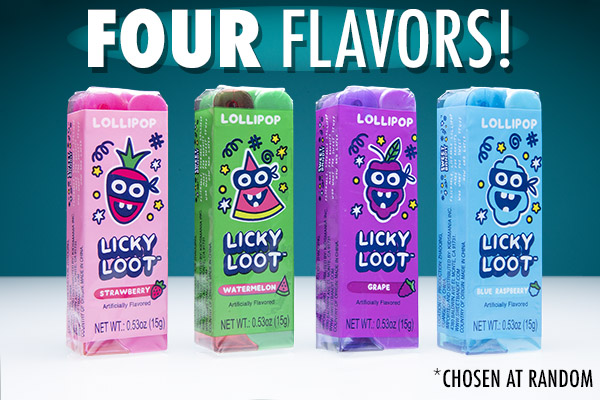 Love our videos? Please subscribe to our YouTube channel:
Sorry! It's out of stock.
Burning Questions: You Ask, We Answer
Your questions that have been answered by the Vat19.com staff:
Sort by: Show Only:
Want to ask your own Burning Question?

First, please watch the

video

to the right. It explains the Burning Question feature and answers some common questions.

Now, if there is something that you need to know about this product that we've omitted, please send us an anonymous question and we promise to answer it within 1 business day.