Lil' Nitro®: The World's Hottest Gummy Bear
A little gummy bear with insanely explosive heat.
Videos






Watch video for: Lil' Nitro® Gummy Bear

Video: Watch Jon and Jamie burn off their taste buds trying this bear!

Video: Buy vs DIY: The World's Hottest Gummy Bear

Video: Un-Freezing A Caveman Goes Horribly Wrong

Video: The Gummy Bear YouTube BANNED

Video: We Offered $50 to Eat These Gummy Bears (most wouldn't)
Overview
We know a thing or two about gummy and we're certainly no strangers to the spice game, so believe us when we say that the Lil' Nitro® Gummy Bear is the spiciest gummy we've ever had the pleasure/horror to try.

This searing sweet is a normal-sized (i.e. non-Vat19-sized) gummy bear that's loaded with a special spice extract that's 900 times hotter than a jalapeño! The little devil is even holding a stick of dynamite and sporting a malicious grin that lets you know he's not here to play.

The package contains just a single blistering bear, which is more than enough to melt your face and your stomach. For those brave enough to try it, Lil' Nitro® is a next-level spice challenge that shows that even the sweetest things can be corrupted.
Features & specs
Incredibly spicy gummy bear
Contains chili extract rated at 9 million Scoville units!
Possibly the world's spiciest gummy
900 times hotter than a jalapeño
Recommended ages: 14+
Consume at your own risk and handle with extreme caution!
Keep away from young children and pets
Net Wt.: 0.1 oz (3 g)
Made in the USA
Made by Flamethrower Candy Company
You may also like:
Love our videos? Please subscribe to our YouTube channel:
Little bear, big heat
This gummy bear may be called Lil', but it's anything but cute. In fact, this tiny candy contains a chili extract with a Scoville rating of 9,000,000! For reference, that means the spice in this bear is about 900 times hotter than a jalapeño pepper. If you find that difficult to imagine, that's because this pain is beyond all logic or reason. Trust us when we say that the heat is off the charts.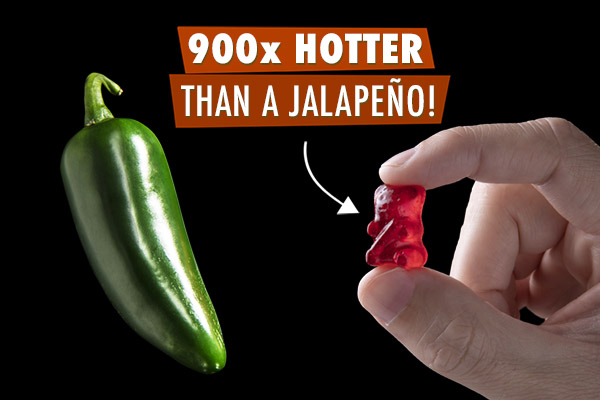 This thing is a bear to eat.
Frequently Asked Questions
Question: How does this compare to your other extremely spicy products?
Answer: Lil' Nitro® has the same chili extract that gives the Toe of Satan® and World's Hottest Chocolate Bar their hellish heat. It's pretty comparable in intensity to those products.
Question: What flavor is it?
Answer: Lil' Nitro is technically raspberry flavored, but we would say the flavor profile could more accurately be described as, "aaaaaah!!"
Ingredients: Corn syrup, sugar, water, gelatin, citric acid, natural and artificial flavor, 9 million shu chili extract, red #40, sodium benzoate, coconut oil, carnauba wax.
Allergen Statement: This product is extemely spicy and has the potential to cause skin and/ or mouth irritation
Halal: No See all Halal
Gluten Free: Yes ✔ See all Gluten Free
Kosher: No See all Kosher
Nutrition Facts
Serving Size 1 bear (about 3 g)
Serving Per Container 1
Amount Per Serving
Calories 15
Calories from Fat 0
% Daily Value*
Total Fat 0g
0%
Saturated Fat 0g
0%
Trans Fat 0g
Cholesterol 0mg
0%
Sodium 0mg
0%
Total Carbohydrate 3g
1%
Dietary Fiber 0g
0%
Total Sugars 3g

Includes 3g added sugars

Protein 0g
Burning Questions: You Ask, We Answer
Your questions that have been answered by the Vat19.com staff:
Sort by: Show Only:
Want to ask your own Burning Question?

First, please watch the

video

to the right. It explains the Burning Question feature and answers some common questions.

Now, if there is something that you need to know about this product that we've omitted, please send us an anonymous question and we promise to answer it within 1 business day.
Please excuse the shameless cross promotions!