Toe of Satan Lollipop
The world's spiciest lollipop!
You may also like:
Overview
The Toe of Satan Lollipop is not a sweet sucker to savor; it's a candy that tests your mettle while it scorches your tongue.

This satanic sucker is made from a special "hellfire" chili extract that has a Scoville heat unit rating of 9 million—that's 900 times hotter than a jalapeño and hotter than the hottest pepper on the planet! So be careful: this is a food for serious spice gladiators only.

If you're hell-bent on heat, try the Toe of Satan Challenge: keep the sucker in your mouth for five merciless minutes. It's guaranteed to turn your mouth into a lake of fire.
Features & specs
Unbelievably spicy sucker shaped like a demonic toe
Net wt. 0.7 oz (20g)
Contains chili extract rated at 9 million Scoville units!
Possibly the world's spiciest hard candy
900 times hotter than a jalapeño
Recommended ages: 14+
Consume at your own risk and handle with extreme caution!
Keep away from young children and pets
Love our videos? Please subscribe to our YouTube channel:
Lucifer's lolly
Lollipops bring to mind images of sweet innocence; the Toe of Satan sets those images on fire. This scorching sucker hits your tongue like a cinnamon flamethrower and keeps burning long after you remove it from your mouth. It's a candy meant for those who want to experience truly extreme heat.
Keeping with the hellish theme, the hard candy pop has the pointed shape of a demonic toe and the outline of a toenail. The ominous packaging features a coffin cutout, so you know exactly what you're getting yourself into.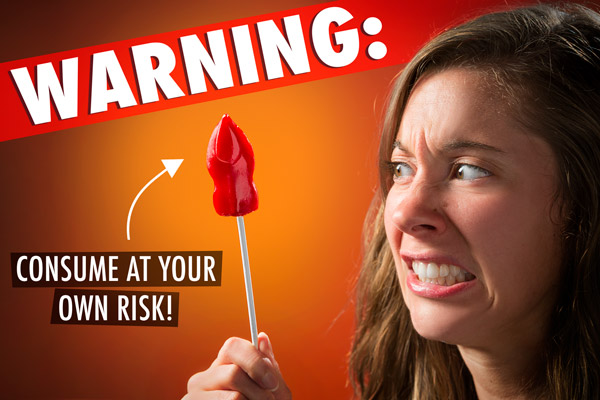 Immolation guaranteed.
Hotter than sin
The Toe of Satan is one of the spiciest candies on Earth or in hell. Instead of the delayed burn from hot peppers, this demonic delight sizzles as soon as it hits your tongue. That burn you feel is the "hellfire" chili extract, which has the insanely high Scoville rating of 9 million units! For comparison, that's over four times hotter than a Carolina Reaper, the former record-holder for the world's hottest pepper.
We sincerely mean it when we say that you should approach this sucker with caution. Keep it away from children and pets, and make sure you have milk or ice cream handy before venturing into the netherworld.

Imported from The Crossroads.
Dance with the devil
If you can't get enough brimstone in your diet, challenge yourself and a friend to the Toe of Satan challenge. In order to achieve bragging rights, you must keep the sucker in your mouth for five fiery minutes without spitting. Trust us, five minutes is going to seem like an eternity.

If you finish the challenge, you may be meeting the real Satan soon.
Frequently Asked Questions
Question: How can this be hotter than the world's hottest pepper?
Answer: The Toe of Satan is made with a special chili extract, which allows the manufacturer to achieve a higher spice level than is possible with a naturally grown pepper. It bears repeating that this should only be consumed with caution.
Question: What flavor is this sucker?
Answer: The Toe of Satan has a cinnamon flavor, but it's quickly overwhelmed by the intense heat.
Question: What's this devilish treat made of?
Answer: The Toe of Satan is made with sugar, light corn syrup (corn syrup, salt, vanilla), water, red food coloring, artificial & natural flavors. Note: may contain traces of fire and brimstone.
Burning Questions: You Ask, We Answer
Your questions that have been answered by the Vat19.com staff:
Sort by: Show Only:
Want to ask your own Burning Question?

First, please watch the

video

to the right. It explains the Burning Question feature and answers some common questions.

Now, if there is something that you need to know about this product that we've omitted, please send us an anonymous question and we promise to answer it within 1 business day.