Marvel Comics Molded Mugs
Officially licensed superhero (and anti-hero) coffee mugs.
Overview
Supercharge your favorite beverages with Marvel Comics Molded Mugs. These officially licensed mugs are equal parts sculpture and drinkware.

Made from a lightweight ceramic that boasts bright, intense colors, Marvel Comics Mugs feature a generous 16-ounce capacity.

Available in the following characters: Spider-Man, Captain America, and Deadpool.
Features & specs
Dimensions: 6" x 5.5" x 3.75"
Capacity: 16 oz (473 mL)
Material: Ceramic (dolomite)
Officially licensed
Hand wash only
You may also like:
The Amazing Spider-Man (and other) molded mugs!
Even if you don't read comics, you'd have to live in alternate universe to not know about Marvel Comics. For your drinking pleasure, they've recently created a line of molded mugs featuring the heads of some of their most famous characters.
Check 'em out! They're awesome.

Wow! Look at the mugs on those mugs!
(Pun City apologizes on behalf of Vat19 for that one.)
Intense colors, highly detailed
The manufacturer chose to use dolomite because it's fairly lightweight (designs of this nature tend to be thicker than your average mug), the name sounds awesome, and it allows for the most intense colors.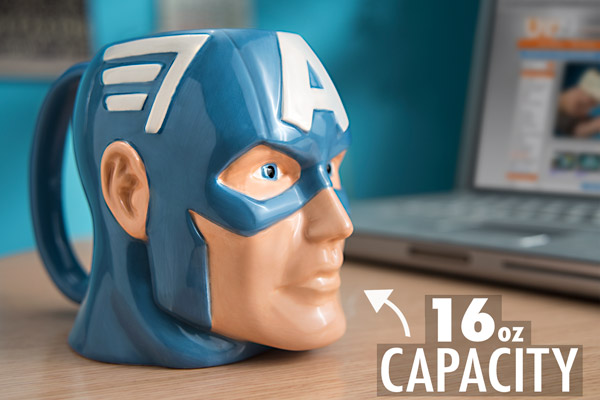 Marvel Comics Molded Mugs feature a 16-oz capacity and brightly colored glazing.
Officially licensed mugs
Our Marvel Comics mugs are officially licensed and currently available in the following characters: Spider-Man, Captain America, and Deadpool.
Should you collect all three? Was Spider-Man bit by a radioactive spider?

Collect all three Marvel Comics Molded Mugs.
This product has been discontinued. Frown face!
Sorry, but this item is no longer available for purchase.
Burning Questions: You Ask, We Answer
Your questions that have been answered by the Vat19.com staff:
Sort by: Show Only:
Want to ask your own Burning Question?
Unfortunately, this product is not currently available for purchase. Therefore, we cannot accept any new burning questions. Sorry!
Please excuse the shameless cross promotions!