The Original My Pillow Pets
Cuddly stuffed animals that double as pillows.
You may also like:
From $37.99 to $43.99
Overview
My Pillow Pets are the Transformers of the stuffed animal world. Each cuddly critter can quickly switch from pet to pillow and back by simply fastening or unfastening a Velcro band. Kids will love their super-soft fur, adorable design, and multi-function.

Made from ultra-plush chenille, each Pillow Pet is machine washable. Available in several different animal styles.
Features & specs
Dimensions (when in "pillow mode"): 18" x 18" x 9" (approx.)
Material: Super-soft chenille
Machine washable on gentle cycle (not recommended for dryer)
Unfasten Velcro and they switch from pet to pillow
Ages 3+
Watch our My Pillow Pets video
Love our videos? Please subscribe to our YouTube channel:
My Pillow Pets are stuffed animals AND pillows!
Combine the warmth, security, and fun of a stuffed animal with the functionality of a pillow and you've got My Pillow Pets.
Each adorable Pillow Pet is quickly converted from a stuffed animal to a pillow by simply removing the Velcro clasp.

Simply pull off the Velcro clasp to turn the stuffed animal into a pillow.

Children will love these soft and furry stuffed animals
If your child loves soft and cuddly stuffed animals, they will go bonkers over My Pillow Pets.
Each plush pet features a pillow "surface" of approximately 18" x 18". This is slightly smaller than a standard adult-sized pillow (20" x 26"). Children ages 3 and up will have no problem carrying these cuddly creatures wherever they go!

The ultra-soft My Pillow Pets will surely be a hit with children of all ages.

Velcro cover ensures the softest, cuddliest pillow
The Velcro clasp is the magic that turns the "pillow" into the "pet". However, no one wants to roll over and rub their face against that itchy Velcro. Enter the Velcro cover. Simply fold it over the Velcro patch to guarantee that your Pillow Pet remains your child's softest and cuddliest pillow.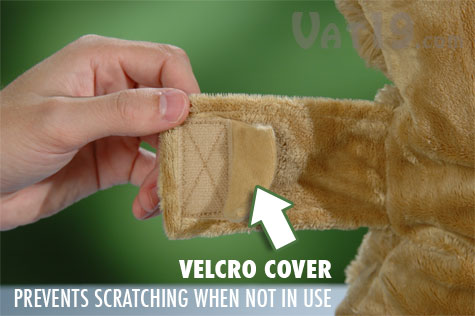 The Velcro cover prevents scratching when the Pillow Pet is in "pillow mode".

Available in multiple styles
My Pillow Pets are available in a variety of animal designs. Collect them all!
Where can I buy this awesomeness?
Burning Questions: You Ask, We Answer
Your questions that have been answered by the Vat19.com staff:
Sort by: Show Only:
Want to ask your own Burning Question?
This product is no longer available for purchase directly from Vat19. Therefore, we are no longer accepting new burning questions at this time. Sorry!