Spoon Tongs (12")
Non-scratch utensil for stirring, grabbing, scooping and serving.
$10.99
This item has been discontinued.
You may also like:
Overview
Spoon Tongs are a simple and clever kitchen utensil. As the name suggests, they're perfect for spooning, grabbing, stirring, and serving.

The spring-loaded twelve-inch handle (with locking mechanism) makes it easy to switch between "spoon" and "tongs" modes.

The silicone and plastic construction of Spoon Tongs means it won't scratch your non-stick pans or any of your cookware surfaces. Heat safe up to 400 degrees Fahrenheit, Spoon Tongs are also dishwasher safe.
Features & specs
Dimensions: 12" x 3" x 1"
Materials: silicone and plastic
Heat resistant to 400° Fahrenheit (204° C)
Safe on all cookware surfaces
Dishwasher safe
Locks for easy storage
The Sharktopus of kitchen gadgets!
Sharktopus, for the uninitiated, is a half-shark and half-octopus monster created by the government. Spoon Tongs, while slightly less comical, are infinitely more useful (and real) than Sharktopus.
Spoon Tongs feature scalloped silicone edges for easy grabbing, scooping, and serving.

Spoon Tongs are a clever kitchen gadget that make serving, scooping, and grabbing food easier.

Cook, add sauces with non-scratch Spoon Tongs
We love Spoon Tongs because we can cook a delicious chicken parm and add the sauce without using any other utensils. It may seem like a small thing, but we certainly don't mind having one less utensil to wash.
Also, Spoon Tongs are made from plastic and silicone and are therefore safe for all cookware surfaces. They won't scratch your non-stick pans like traditional metal tongs, and they are heat safe up to 400 degrees Fahrenheit.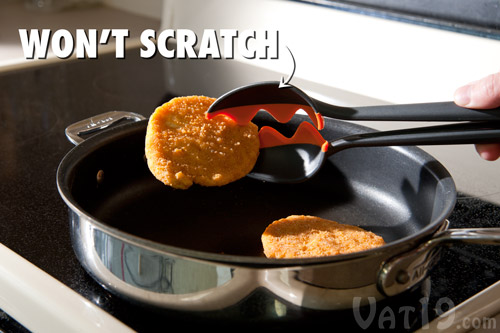 Spoon Tongs won't scratch your non-stick pans.
Twelve-inch tongs lock for easy storage
Press the orange button on the handle of the Spoon Tongs to lock them closed.

The spring-loaded Spoon Tongs can be quickly locked for storage.
Dishwasher safe = easy cleaning
Spoon Tongs are dishwasher safe, which means you now have every reason to purchase this wonderful kitchen gadget!

Spoon Tongs are dishwasher safe.

This product has been discontinued. Frown face!
Sorry, but this item is no longer available for purchase.
Burning Questions: You Ask, We Answer
Your questions that have been answered by the Vat19.com staff:
Sort by: Show Only:
Want to ask your own Burning Question?
Unfortunately, this product is not currently available for purchase. Therefore, we cannot accept any new burning questions. Sorry!