ToastIt Drink Coasters (set of 8)
Thick cork coasters that look like slices of bread.
You may also like:

Overview
We'll be blunt - ToastIt Coasters are thick cork coasters in the shape of slices of bread.

Each adorable "loaf" includes eight drink coasters that are 3/8" thick. Gift-wrapped to look like an actual loaf of wheat bread.
Features & specs
Dimensions (per coaster): 4" x 4" x 0.375"
Material: cork
Includes 8 "slices" of coaster
Packaged like a loaf of bread
Coasters that look like bread slices!
Don't worry, we're not going to make a cheesy best-thing-since-sliced-bread joke for this product. We're far more sophisticated than that. I mean...we sell the Screwnicorn for Pete's sake! So, let's get down to business:
ToastIt Drink Coasters are made from thick cork and cut to look like slices of bread. Don't overthink this one. There isn't a button that allows you to sync it with your MyTwitterFace account. ToastIt Coasters are simple, fun and humorous...like Wiffle ball.

ToastIt Coasters are made from thick and absorbent cork.

Includes a "half loaf" of coasters per set
The ToastIt Coaster Set includes eight 3/8" thick cork coasters. Their thickness is similar to that of a standard slice of bread and is more than ample for absorbing the sweatiest of drinks.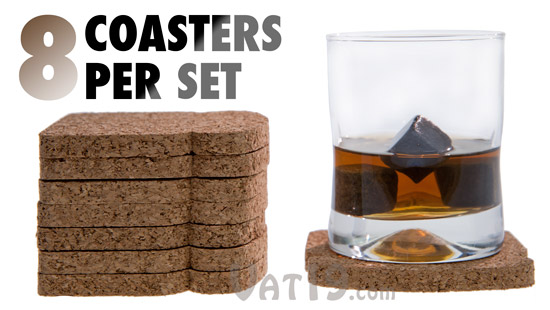 Each set of ToastIt Coasters includes eight slices of "bread". In case you're wondering (which we hope you are!), the
"rocks" in the drink are called Whiskey Stones.

Delightful gift packaging
ToastIt Coasters are packaged in a cello bag with bread-style artwork. It even has one of those twist-tie things (but with silver flair) to keep it sealed. Very cute.

ToastIt Coasters are packaged to look like a mini loaf of bread.

This product has been discontinued. Frown face!
Sorry, but this item is no longer available for purchase.
Burning Questions: You Ask, We Answer
Your questions that have been answered by the Vat19.com staff:
Sort by: Show Only:
Want to ask your own Burning Question?
Unfortunately, this product is not currently available for purchase. Therefore, we cannot accept any new burning questions. Sorry!