Voltron USB Flash Drive (16GB)
Officially licensed Voltron flash drive with blazing sword!
You may also like:
Overview
Voltron (aka Defender of the Universe) is the greatest cartoon of the 1980s. Period. And that's why we completely freaked out when we discovered the Voltron USB Flash Drive.

It's got movable arms, a twistable head, and its chest lights up when data is accessed from the 16GB drive. Featuring a removable blazing sword, the Voltron USB Flash Drive comes preloaded with several digital goodies. In addition to a digitally remastered Voltron episode, you'll also have access to a handful of wallpapers for your computer desktop.

Officially licensed, the Voltron USB Flash Drive features a detachable torso, arms, head, and lower body. Go lion!
Features & specs
Dimensions: 3.75" x 2.25" x 0.75"
Capacity: 16GB
Officially licensed
Detachable head, arms, and lower body
Blazing sword included!
Includes several computer desktop wallpapers
Includes one digitally remastered Voltron TV episode
Love our videos? Please subscribe to our YouTube channel:
Pretty much the greatest USB flash drive ever
For those of you who remember Voltron, you're aware that it was probably the greatest cartoon ever. It had everything! A gorgeous princess. Evil aliens. And robotic lions that, when faced with insurmountable odds, could form into the sword-wielding mega-robot Voltron, Defender of the Universe.
Relive the glory of Voltron with this officially-licensed collector USB Flash Drive.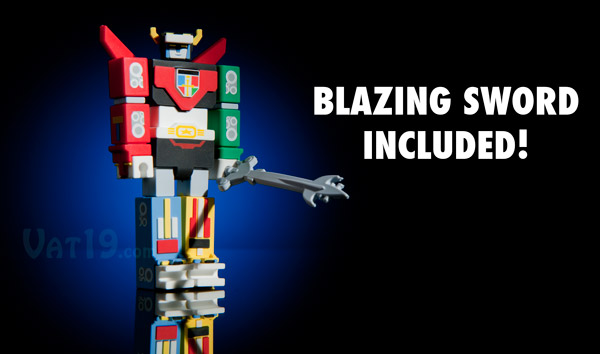 The officially-licensed Voltron USB Flash Drive.

It's a toy AND a storage device. Excellent!
As its name implies, the Voltron USB Flash Drive is indeed a mass storage device. Simply plug it into your computer's USB port to copy and transfer photos, videos, and lame PowerPoint presentations.

Voltron's chest lights up when the USB drive is accessed.

Twist the head, swing the arms
What we absolutely love about this Voltron USB Flash Drive is that it looks so much like the original Voltron (i.e. awesome) and that you can have more fun than you should posing its head and arms.

Just like a real action figure, you can twist Voltron's head and swing his arms.

"Activate interlock!"
As a fan of the show, you surely remember that forming Voltron required five robot lions. Four lions became the arms and legs and the black lion formed the torso and head.
The Voltron USB Flash Drive features detachable arms, torso, head, and lower body. Oh, and don't forget the blazing sword!

The Voltron USB Drive features a detachable lower body, arms, torso, and head.
Oh, and don't forget about that awesome blazing sword!

Digitally remastered episode included on each drive
A digitally remastered episode of the Voltron cartoon is included as a QuickTime movie file on every Voltron USB drive.

A QuickTime movie of a Voltron episode is included on the drive.

Handful of desktop wallpapers also included on the drive
Complete your digital Voltron experience by decorating your computer's desktop with a variety of Voltron-themed wallpapers. Each drive includes a half dozen to choose from.

Choose from a half dozen Voltron wallpapers for your computer's desktop.

An action figure you can take to work!
Unless you work at a toy store, adorning your cubicle with action figures is probably frowned upon. But, with the Voltron USB Flash Drive, you're not goofing off. Rather, you're just handling company business with a little extra flair!

The Voltron USB Flash Drive. Awesome from any angle.

It's time to buy!
Seriously, it's a USB Flash Drive that looks like Voltron. It comes apart like Voltron. It has the blazing sword! Its head twists and its arms move. And it can store files like episodes of Voltron. This is a no-brainer. Buy, buy, buy!

The Voltron USB Flash Drive is the perfect gift for any child of the 80s.

Frequently Asked Questions
Question: I can get waaaaay more storage for like $0.50 at WalMart. Why on earth would I buy this?
Answer: Does that ultra-cheap flash drive from WalMart look like Voltron and come with a blazing sword? Does it come pre-loaded with an episode of Voltron and computer wallpapers? No, all that ultra-cheap drive comes with is the retina burn that is the morbidly obese, bikini-clad grandma on a Rascal Scotter.
Question: Does each drive have the same episode of Voltron?
Answer: Currently, yes.
Question: What about Vehicle Voltron?
Answer: We'll pretend you're kidding. Now buy, buy, buy!
This product has been discontinued. Frown face!
Sorry, but this item is no longer available for purchase.
Burning Questions: You Ask, We Answer
Your questions that have been answered by the Vat19.com staff:
Sort by: Show Only:
Want to ask your own Burning Question?
Unfortunately, this product is not currently available for purchase. Therefore, we cannot accept any new burning questions. Sorry!