AirZooka
Shoots a safe blast of air up to 40 feet.
You may also like:
Overview
The AirZooka is a very cool toy that shoots a harmless blast of air up to 40 feet. That's according to the manufacturer. To us, the AirZooka is the latest development in the surface-to-air air-cannon arms race.

And the AirZooka is winning. Attack with precision as you send a ball of air into your enemy's desk full of papers. Expose their deceitful ways by de-coifing their toupee. Foil their attempts to rejuvenate themselves by rocketing a stiff wind at their morning coffee.

Don't go into battle without the AirZooka.
Features & specs
Flip-up sight
Easy assembly
No batteries or electricity needed
Black-light sensitive (blue only)
Love our videos? Please subscribe to our YouTube channel:
AirZooka: Unleash a stiff wind of terror upon thine enemies.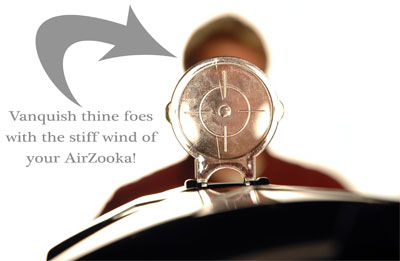 Watch a Video of the Brief History of the AirZooka
Don't get left behind in the surface-to-air air-cannon arms race
The AirZooka is extremely easy to use and a ton of fun to play with. You simply pull back the plunger, take aim through the flip-up sight, and let fury fly. A puff of wind cuts through the air.
Endless ammo
The AirZooka is powered by your imagination. Ok, we're kidding. It's really powered by Hobbit magic mined from the shires of Middle Earth.
All kidding aside, the AirZooka requires no batteries and since it shoots air, well, you can attack your foes endlessly.
De-Coif that toupee. Mess up a desk full of paper. Be mischevious!
The uses for the AirZooka are endless! Eck, how cliché is that, right? Well, the point is that you can have a lot of fun with this toy. We've had them around the studio for a few months and they can wreak a lot of havoc...but in a safe and wholesome way. Until you blast off a few strategic rounds to alert someone that their fly is down...that didn't go down too well.
Where can I buy this awesomeness?
Burning Questions: You Ask, We Answer
Your questions that have been answered by the Vat19.com staff:
Sort by: Show Only:
Want to ask your own Burning Question?
This product is no longer available for purchase directly from Vat19. Therefore, we are no longer accepting new burning questions at this time. Sorry!