Ambient Art: Impressionism DVD
The World's Greatest Paintings...In Your Living Room.

Videos

Watch video for: Ambient Art DVD
$19.99
This item has been discontinued.
Overview
With the Ambient Art DVD, you can turn your TV into an Impressionist Art Gallery.

We've collected 346 paintings from 11 Impressionist Masters (from Van Gogh to Renoir) to create a virtual anthology of one of the world's most popular art movements.

Create custom slideshows and enjoy artist biographies. Ambient Art is the perfect backdrop for parties or everyday ambiance.

Optimized for both standard and widescreen TVs.
Features & specs
346 Paintings from 11 Impressionist masters
Create custom slideshows using your DVD remote control
Optional artist biographies
Van Gogh, Monet, Degas, Cezanne
Renoir, Gauguin, Manet, Seurat
Morisot, Sisley, and Pissarro
No software required. Works on any DVD player.
This item is a Vat19 exclusive!
You may also like:
Love our videos? Please subscribe to our YouTube channel:
Turn your TV into an Impressionist Art Gallery!
The Ambient Art: Impressionism DVD is one of the most popular DVDs in Vat19's Ambient Series. Pop it into your DVD player and enjoy a window into your own private art gallery--stocked with the world's most famous Impressionist paintings.

The Ambient Art: Impressionism DVD features 346 paintings from 11 famous artists.
Ambient Art: Impressionism features:
| | | | |
| --- | --- | --- | --- |
| | | | |
| The Ambient Art: Impressionism DVD can be set to loop infinitely. You can even create custom artist playlists. | Bonus material includes wallpapers for your computer and a narration track about each artists' life. | Ambient Art: Impressionism includes both widescreen and 4x3 versions on the same disc. | Choose between classical music and narration for each artist's movie. |
Popular paintings by your favorite artists
Ambient Art: Impressionism features 346 paintings hand-picked by art historians for their beauty and historical relevancy.
Click the artist's name for a list of their paintings that are included on the DVD.
"The Visual Quality is Exceptional!"
"...the paintings are rendered clearly and give viewers a sense of the interplay of light, color, and emotion for which this particular artistic movement is known."
- School Library Journal
---
Choose from three viewing modes
"...takes full advantage of the interactivity/versatility features built into the DVD format."- Video Librarian
Mode #1: Slideshow Mode
Create a DVD slideshow of all 346 paintings or just one artist's paintings.
Advance or rewind slideshow using your remote control.
View optional details on each painting: title, date, medium used, and current location.
Set duration of each slide from 30 seconds to 5 minutes or manually advance slides
Mode #2: Movie Mode
Listen to commentary about the life and time of each artist.
View the paintings set to classical music.
Mode #3: Favorite Painting Mode
View a particular painting continuously by selecting it as your "Favorite Painting".
Choose from 346 Impressionist art paintings.
---
Mode #1: Slideshow Mode
Step #1: Pick your type of slideshow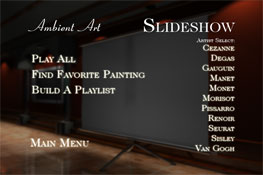 Choose from:
All 346 Impressionist paintings
A selection of your favorite artists
Just one painting
Step #2: Choose the duration of each slide
You can have the paintings shuffled or displayed in order. You then choose how long you want each painting displayed. Choose from 30 seconds, 1 minute, 2 minutes, 5 minutes, or manual advance. With manual advance, you use your DVD remote control to navigate through your slideshow.
Start the Slideshow!
While viewing your slideshow, you can turn each painting's details on and off with the click of your remote.
Every painting was optimized for widescreen and fullscreen TVs.
Please note that Ambient Art: Impressionism always preserves the dimensions of the paintings. Unless an artist happened to create a work that exactly fits the dimensions of modern day televisions, you will see black borders either along the top or along the sides of each image.
---
Mode #2: Movie Mode
If you're looking for more than a TV screensaver or art for your plasma TV, try movie mode.
Movie Mode is not a slideshow. It includes pans and zooms over each artist's works. It does not display a static image like in slideshow mode.
You can choose to watch one artist's movie or all of the artists' movies. You also have two audio options: (1) classical music only or (2) music and audio commentary. Audio commentary informs you about each artist's life and work.
---
Mode #3: Favorite Painting Mode
Favorite Painting Mode was designed to turn your TV into a virtual painting. If you're looking for a single piece of art for your plasma tv, this is the setting to use. Use the intuitive searching mode built into Ambient Art: Impressionism to search for the painting you wish to display. You simply use your DVD remote control to navigate the screen.
You can choose to turn any of the 346 Impressionist paintings into art for your TV. Ambient Art: Impressionism can be used to create LCD art, plasma art, or art for any TV.
---
Loop Mode

Every DVD in the Ambient Series has the ability to loop any scene. This means there won't be any breaks in the action if you simply want your favorite scene to play continuously.
However, if you dizzy from watching the same scene over and over, you can use our exclusive playlist feature. The playlist feature allows you to create a custom slideshow.
---
Works on ANY television
While the Ambient Art is quite popular as an LCD TV screensaver, it does not play favorites. The Ambient Art: Impressionism DVD was designed from the ground up to work flawlessly on both widescreen and standard televisions.
Each painting was sized for optimal viewing on any television. There are essentially two versions of the program on the DVD. One is designed for standard TVs and the other, widescreen TVs.
---
Display ideas
Haystacks does make for an excellent LCD tv screensaver. Of course, Ambient Art: Impressionism can be enjoyed on any type of TV.
LCD TV Art: The Ambient Art: Impressionism DVD is a great plasma or LCD TV screensaver. Of course, you don't have to own a fancy flatscreen, but it sure would look awfully nice.
Educational: Ambient Art: Impressionism is more than just a TV screensaver. Try turning on the audio commentary to learn a thing or two.
Décor: Choose a painting that looks especially nice in your home and let it run continuously in Favorite Painting Mode as art for your TV.
Inspiration: Allow the sights and sounds of great composers and artists to help you create your own masterpieces.
Oh, and did we mention that the Ambient Art: Impressionism DVD makes a great LCD TV screensaver?
---
Bonus: 346 desktop wallpapers for your computer
Each of the 346 Impressionist Paintings included on the Ambient Art: Impressionism DVD are included in two different sizes on the DVD (800x600 and 1024x768). Simply insert the DVD into your computer's DVD-ROM drive to access the wallpapers.
---
Complete list of paintings
Click here to view all of the Impressionist paintings included on the Ambient Art: Impressionism DVD.
This product has been discontinued. Frown face!
Sorry, but this item is no longer available for purchase.
Burning Questions: You Ask, We Answer
Your questions that have been answered by the Vat19.com staff:
Sort by: Show Only:
Want to ask your own Burning Question?
Unfortunately, this product is not currently available for purchase. Therefore, we cannot accept any new burning questions. Sorry!
Please excuse the shameless cross promotions!