Beard Ornaments
Make your facial hair festive!
Hang some Christmas cheer from your beard.
Overview
Before you can add your ornaments to the tree, you need to trim it. The same goes for your face with Beard Ornaments – a pack of ten silver bulbs that clip to your beard for some seriously festive facial hair.

Got a holiday gathering coming up? Fasten shiny bulbs to your chin tree and be the life of the party. The mini ornaments attach with a bobby pin to keep them nestled all snug in their whisker bed.
Features & specs
10 mini ornaments
Attach with included bobby pins
Material: plastic
Colors: Silver
You may also like:
Make Your Face Festive!
'Tis the season to be different, and with Beard Ornaments you can do just that. Celebrate the holidays like Paul Bunyan would: by hanging 10 mini bulb ornaments throughout your chin forest.
Once you've become a walking Christmas Tree, don't be surprised if you get a few presents in the form of compliments from friends and family.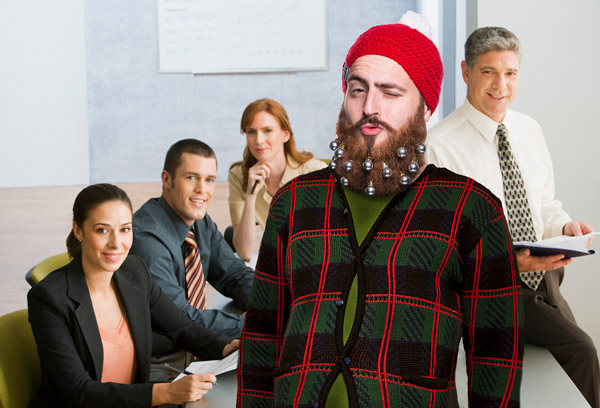 Hang some Christmas cheer from your beard.
Question: What if you can't grow a beard?
Answer: You can wear a fake beard!
Question: Do they hurt to wear?
Answer: Nope, the bobby pins are very easy to use and are not sharp.
Where can I buy this awesomeness?
Burning Questions: You Ask, We Answer
Your questions that have been answered by the Vat19.com staff:
Sort by: Show Only:
Want to ask your own Burning Question?
This product is no longer available for purchase directly from Vat19. Therefore, we are no longer accepting new burning questions at this time. Sorry!
Please excuse the shameless cross promotions!