Crossword Puzzle Coffee Mug
Solve crossword puzzles directly on the mug itself.

Videos

Watch video for: Crossword Puzzle Mug
Overview
Puzzlers will love the unique Crossword Puzzle Coffee Mug.

Each 14-oz mug includes a pencil and clues to your first puzzle right on its gift box. The erasable mug makes it easy to fix mistakes, and avid puzzlers will enjoy the free monthly puzzle updates.

Ceramic mug is dishwasher safe.
Features & specs
Capacity: 14 oz (414 mL)
New puzzle released monthly
Dishwasher safe
Erasable!
Includes a pencil
You may also like:
Love our videos? Please subscribe to our YouTube channel:
Do the crossword on your cup of coffee
Crossword lovers are often found curled up on the sofa with a cup of joe, a blanket draped across their legs, and a folded-up newspaper giving them lexical fits.
These puzzlers, my friends, will surely love the Crossword Puzzle Coffee Mug. It's a high-quality ceramic mug emblazoned with a real crossword puzzle that you solve directly on its surface!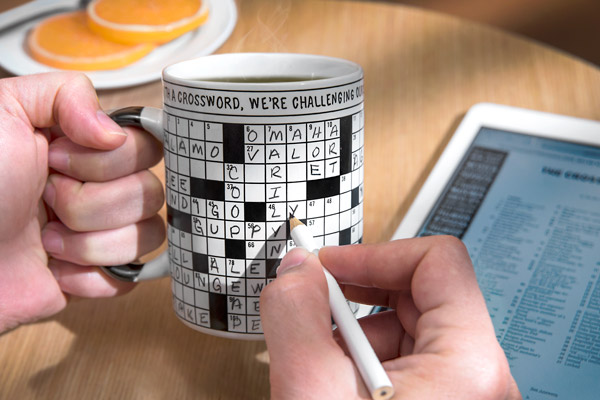 Don't just solve the puzzle over a cup of coffee, solve it on your cup of coffee!
What's a 7-letter word for "erasable"?
If you thought "expunge", you'd be correct! You'd also be correct if you assumed that the Crossword Puzzle Mug featured an erasable exterior for fixing minor mistakes.
When you're ready to start a new puzzle (a new one is released monthly), we suggest using a kitchen scrubber or sponge.

Use any old eraser to fix mistakes or clean the slate for a new puzzle.
Monthly updates for perpetual crossword fun
The Crossword Puzzle Mug features one puzzle on its gift box. You can also download a new puzzle each month from the mug's website.

Visit crosswordmug.com for monthly puzzle updates.
Easy cleanup
Toss the Crossword Puzzle Coffee Mug into the dishwasher for a quick cleaning. If you're mid-puzzle, we recommend hand-washing the mug since it's possible that your dishwasher could erase your work.

The ceramic Crossword Puzzle Mug is dishwasher safe for easy cleanup.
Frequently Asked Questions
Question: Do I have to use the included pencil or will any pencil work?
Answer: Any pencil will work. The included pencil is simply for convenience.
Question: Is there only one puzzle?
Answer: Nope! There is one puzzle on the gift box, but you can get monthly puzzle updates from the website listed on the bottom of the mug.
Question: Is it easy to erase mistakes? What about starting a new puzzle?
Answer: We've found that a standard pencil eraser works quite well. You may have to rub a bit harder than on paper depending on the darkness of your markings. When it comes time to start a new puzzle, you may find it easier to scrub with a bit of dishwashing soap.
Where can I buy this awesomeness?
Burning Questions: You Ask, We Answer
Your questions that have been answered by the Vat19.com staff:
Sort by: Show Only:
Want to ask your own Burning Question?
This product is no longer available for purchase directly from Vat19. Therefore, we are no longer accepting new burning questions at this time. Sorry!
Please excuse the shameless cross promotions!