Fractal Puzzle
Mind-bending jigsaw puzzle with curvy pieces.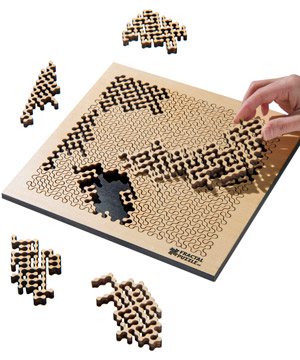 $59.99
This item has been discontinued.
You may also like:
$19.99
$29.99
Overview
This is the hardest 23-piece puzzle you'll ever attempt.

Fractal Puzzle reimagines traditional jigsaw puzzles with wooden pieces laser-cut into curvy, abstract shapes. Fitting the pieces together inside the recessed wooden board is quite a challenge, especially since you don't know what you're building.

Unlike a typical puzzle, the pieces don't form a pretty nature scene or a picture of cats; rather, the completed form is just as twisty and weird as the pieces themselves.
Features & specs
Abstract geometrical jigsaw puzzle made from laser-cut wood
23 pieces
Material: birch plywood with lacquer finish
Approx. dimensions: 11.75" x 11.75" x 0.625" (29.85 cm x 29.85 cm x 1.59 cm)
Made in the USA
What's this "Sneak Peek" all about?
A typical Vat19 product page contains far more information (photos, text, and possibly a video or two) than what is currently available for this product.
But don't worry, this page will get the full Vat19 treatment in short order!
Until then, however, we felt compelled to make this curiously awesome product available to you intrepid shoppers who can't wait to get your hands on our latest and greatest finds!
This product has been discontinued. Frown face!
Sorry, but this item is no longer available for purchase.
Burning Questions: You Ask, We Answer
Your questions that have been answered by the Vat19.com staff:
Sort by: Show Only:
Want to ask your own Burning Question?
Unfortunately, this product is not currently available for purchase. Therefore, we cannot accept any new burning questions. Sorry!