DIY Fruit of the Bloom Flower Pot Fruit Vase Kit
Make your own edible flower bouquets.
$16.99
This item has been discontinued.
Overview
Roses are red, violets are...gone? Someone ate them all! Create mouth-watering arrangements with the 16 piece Fruit of the Bloom Flower Pot Fruit Vase.

Use the decorative cutters and melon baller to turn ripe fruit, veggies, or cheese into leaves and flowers for your blooming buffet. Once cut out, the food easily attaches to the 11 stems for a beautiful, edible bouquet display.

Note: Does not include fruit.
Features & specs
Plastic display vase with integrated storage
11 plastic stems
3 metal decorative fruit cutters
1 metal melon baller
Top rack dishwasher safe
BPA free plastic
This kit does *not* include any fruit.
You may also like:
Make your own beautiful and edible fruit arrangements!
Feast your eyes on this! These arrangements look so good you might want to eat them. Please do!
Plant some of these goodies at your next party, present them as a gift for Valentine's Day, or harvest the fruit of your labor for an afternoon snack. No matter what the occasion is, creating your own scrumptious bouquet is fast and simple.

This is way better than a singing telegram.
Pin it and then eat it
Creating a bouquet of edible food is incredibly easy with the Fruit of the Bloom, and yet is beautiful enough to share with your friends.
Making your own arrangement takes minutes. Just cut out the flower shapes, place the shapes on the stems, and arrange them in the vase. Done and delicious.

Share-worthy spreads in a snap!
That's an impressive spread!
Everything you need is included in the decorative vase. With eleven stems, a decorative tulip cutter, a decorative flower cutter, a decorative leaf cutter and a melon baller, all you need to do is add your favorite fruit or cheese.

Just add the fruit and cheese. Everything else is included!
Pack it up, pack it in
When your work of art has been thoroughly enjoyed, just clean the included pieces and store them neatly away in the vase. As for the leftover bits of fruit and cheese? You can pack those away the old fashioned way.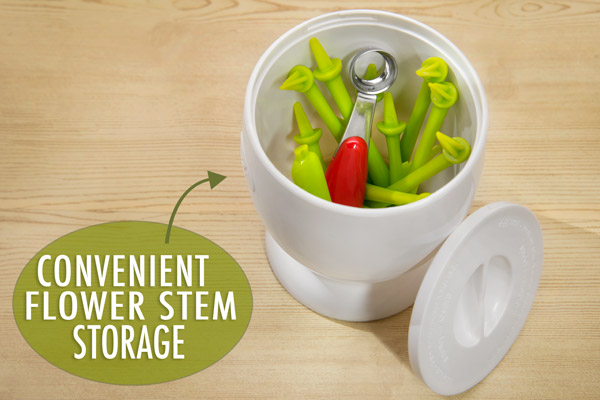 The stems and melon baller fit right back into the display vase.
This product has been discontinued. Frown face!
Sorry, but this item is no longer available for purchase.
Burning Questions: You Ask, We Answer
Your questions that have been answered by the Vat19.com staff:
Sort by: Show Only:
Want to ask your own Burning Question?
Unfortunately, this product is not currently available for purchase. Therefore, we cannot accept any new burning questions. Sorry!
Please excuse the shameless cross promotions!