Old Fashioned Giant Lollipop by Hammond's
Traditional style sucker the size of your face.

$17.99
This item has been discontinued.
Overview
Giant. Enormous. Colossal. Huge. Classic. Delicious. These are just a few of the words that describe the Old Fashioned Giant Lollipop, a swirl of fruit punch hard candy that's so big, the typical paper stick has to be replaced with a handle made of solid wood.

Made in the traditional swirl style, this super-sized sucker is a reminder that some things never change, including how tasty a lolly can be—even after a few thousand licks.

This enormous treat is handmade by Hammond's Candies, a Colorado-based confectioner that has been using the same recipes and processes since the 1920s.
Features & specs
Enormous hard candy lollipop
Wooden support rod
Flavor: fruit punch
Net wt. 10 oz (283g)
Approximate diameter: 5.5" (14 cm)
960 Calories per sucker
Made in USA
You may also like:
Supersized sucker
There's big suckers, there's big suckers, and then there's the Old Fashioned Giant Lollipop. Almost half a foot in diameter, it dwarfs adult humans and makes children look gigantic.

Lick to your heart's content.
Makes mouths look mini
Whether you've got a big mouth or not, the Old Fashioned Giant Lollipop will make it look small. With a seventeen inch circumference, it's unlikely to fit through anyone's lips, even when the sight of this sucker makes you smile.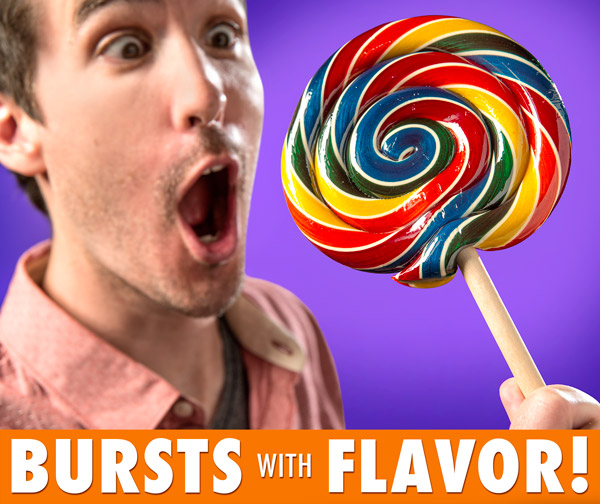 A big sucker full of flavor.
Created by candy kings
Hammond's have been crafting confections for nearly 100 years. The Old Fashioned Giant Lollipop draws on that century of tradition, with a flattened coil of twisted fruit punch hard candy, for a treat-on-a-stick that's big in size and big in flavor.

Just like when great grandpa was a kid, only bigger.
Give a big ol' smile
The Old Fashioned Giant Lollipop comes in a box that makes it easy to wrap and easy to give. And when your loved one receives a pop this big, you're sure to brighten their day.
The Giant Lollipop can make adults feel like a kid again, and it can also make a kid feel like they've got a sucker as big as their head—which just might be true!

The gift of a Giant Lollipop is a sweet gesture.
Question: Is it halal/kosher/vegan?
Answer: The Giant Lollipop is not specifically labeled as being halal or kosher, but it doesn't contain any alcohol or animal products.
Question: Is it even possible to finish this giant thing?
Answer: We dare you to try!
This product has been discontinued. Frown face!
Sorry, but this item is no longer available for purchase.
Burning Questions: You Ask, We Answer
Your questions that have been answered by the Vat19.com staff:
Sort by: Show Only:
Want to ask your own Burning Question?
Unfortunately, this product is not currently available for purchase. Therefore, we cannot accept any new burning questions. Sorry!
Please excuse the shameless cross promotions!