Sweet Spot Ice Cream Sandwich Maker
Make your own ice cream sandwiches!
You may also like:
Overview
Summer means hot days and frozen treats—so why not make your own using your favorite flavors? The Sweet Spot Ice Cream Sandwich Maker gives you the tools you need to easily create ice cream sandwiches using your own ingredients.

Follow the included recipe to make chocolate sandwich cookies and bake them in the segmented silicone mold. Use the ice cream frame to spread your stuffing and then lock it into place between the two sandwich molds. After an hour in the freezer, your own homemade ice cream sandwiches will be ready for you to enjoy!

Customize your snack with your favorite ice cream and have fun finding the best sandwich cookies to go with it.
Features & specs
Make ice cream sandwiches with silicone baking mold and plastic frame
Makes four 4.5" x 1.75" ice cream sandwiches (11.43 cm x 4.4 cm)
Approx. size: 9" x 6" x 1.125" (22.8 cm x 15.2 cm x 2.8 cm)
Includes plastic spatula
Includes recipe and instructions
Ice cream and sandwich cookie batter not included
Dishwasher safe
Love our videos? Please subscribe to our YouTube channel:
Homemade refreshment
The Sweet Spot Ice Cream Sandwich Maker makes it easy to create ice-cream-parlor-quality ice cream sandwiches in your kitchen, customized the way you want them.
The clever kit lets you broaden your flavor horizons beyond what your local ice cream truck driver is pedalling. You'll have fun choosing your flavors, making your creation, and sharing your cold treats with friends and family.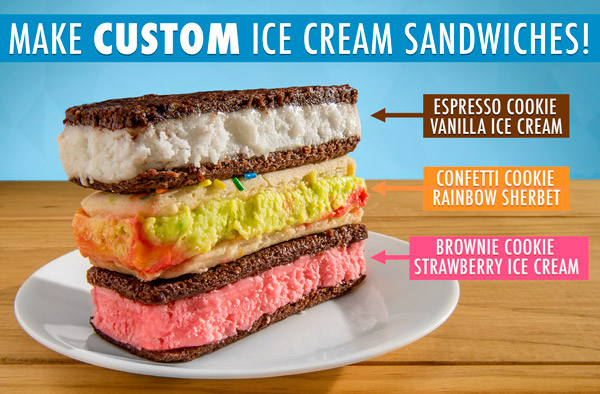 Make your own sweet dessert sweets.
Easy to make
To get started snacking, first make a batter for your sandwich cookies. You can use the included recipe or create your own. Pour your batter into the sandwich molds using the spatula to spread it evenly amongst the four segments and bake for about ten minutes.
The ice cream frame makes it easy to add a perfect portion of your favorite ice cream to each sandwich. The frame then locks into place between the two sandwich molds to press all the deliciousness together. Just freeze your sandwiches for about an hour and enjoy!

Adios, Choco-Taco!
Create crazy combos
In addition to choosing an ice cream flavor, the Sweet Spot Ice Cream Sandwich Maker also lets you choose your own sandwich cookie! Go crazy and mix and match sandwich and ice cream flavors that you can't purchase anywhere else.
Try vanilla ice cream between two waffles, mint chocolate chip ice cream on dark chocolate cookies, or pumpkin ice cream on ginger snaps. The possibilities are limited only by your imagination and appetite.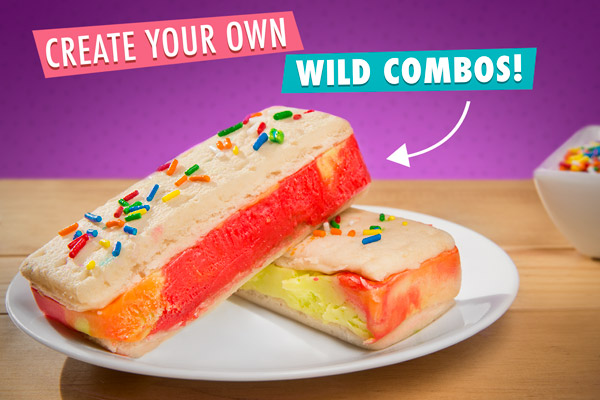 Think outside the selection in the freezer aisle.
The right tools for the job
The Sweet Spot Ice Cream Sandwich Maker includes two sandwich molds so you can make four sandwiches at once. The kit includes a batter recipe to get you started so there's nothing to stop you from enjoying your personalized ice cream treats.
The molds and ice cream frame are dishwasher-safe for easy cleanup.

Choose your ingredients and you're ready to go!
Ice Cream Sandwich Maker: Unboxing
Jon and Joey, members of the Vat19 video team, take a first look at this unique kitchen gadget.
Frequently Asked Questions
Question: Does it come with ice cream?
Answer: The Sweet Spot Ice Cream Sandwich Maker gives you the tools needed to make your own ice cream sandwiches but none of the ingredients. You get to choose your own ingredients to make your sandwiches exactly how you like them.
Question: Does it include a recipe to make ice cream?
Answer: The included recipe is for batter only.
Burning Questions: You Ask, We Answer
Your questions that have been answered by the Vat19.com staff:
Sort by: Show Only:
Want to ask your own Burning Question?

First, please watch the

video

to the right. It explains the Burning Question feature and answers some common questions.

Now, if there is something that you need to know about this product that we've omitted, please send us an anonymous question and we promise to answer it within 1 business day.