Japanese Food Eraser Sets
Adorable collections of food-shaped erasers.
You may also like:
Overview
How cool are these Japanese eraser sets in the shape of miniature foods? Way cool. Although they appear incredibly life-like, these mini erasers are not meant for consumption. Keep these out of the reach of kids under eight years old and those adults who still affectionately refer to McDonald's as "Don Don's".

Each Dessert set includes: an ice cream bar, pancakes, three scoops of ice cream, strawberry shortcake, vanilla cake, and an ice cream cone.

Each Fast Food set includes: a fountain soda, sandwich, burger (hold the tomato), hot dog, large fries, and can of soda.

Each Sushi set includes: salmon roe, octopus, egg omelet, shrimp, tuna, and sea urchin.

Yes, each Japanese eraser set comes on its own little lunch tray. The tray is not an eraser; it's plastic.
Features & specs
Dimensions: 2.75" x 3.5"
Lead-free, recyclable, non-PVC, non-toxic
Recycled paper packaging
Eco-friendly
Ages 8+
Authentic Japanese packaging
Love our videos? Please subscribe to our YouTube channel:
Gives a whole new meaning to "working lunch"
At Vat19, we're well aware that eating fast food on a twice-daily basis is not good for your health. But, you have to admit that sometimes it just tastes sooo good. We love us some Happy Meals. So, when we saw these Japanese Eraser Sets in the shape of miniature food items, we couldn't help but order a ton for our faithful customers. Seriously, they even come with a little tray!

You can enjoy fast food all day long with your set of Japanese Food Erasers.

Safe, eco-friendly Japanese erasers
Our Japanese Erasers Sets are made from recyclable, non-toxic, lead-free materials. That being said, you still can't eat them (although it is quite tempting).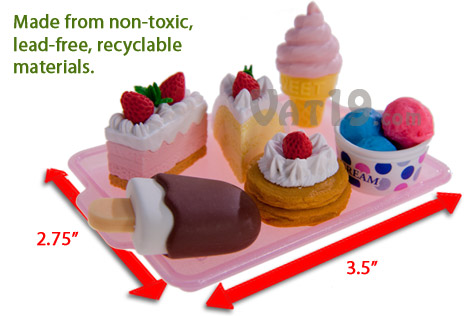 Our Japanese Eraser Sets are made from eco-friendly, non-toxic materials.
But, what makes these erasers so very Japanese?
We realize that by calling these eraser sets "Japanese Food Erasers" that there could be some confusion. One may think that each set depicts Japanese food (which is true for the sushi set). However, the dessert and fast food sets are clearly a Japanese view of American treats.
So, to clear up any confusion, here's why they're called Japanese Erasers: They're made in Japan and thus have super-nifty Japanese packaging.
Don't worry that you can't read what the packaging says; we're pretty sure you already know how to use erasers.

Imported Japanese Food Eraser Sets also feature nifty packaging.
In addition to fixing mistakes, they're also fun to play with!
Not only do these super-cool Japanese erasers fix your written blunders, they're also fun miniature toys. All of the treats feature multiple parts that can be taken apart and put back together. However tempting it may be, do not take the bun off your burger and add ketchup. It will not taste good. Remember, these are erasers, not real miniature food.

Our Japanese food erasers feature removable parts that make
them equal parts toy, decorative art, and functional item.
Collect all three sets!
Japanese Food Erasers are available in three sets: Dessert, Fast Food, and Sushi. Get them all today!
Please note that the colors of the items in the Dessert set may vary slightly from what is pictured.

The imported Japanese Food Erasers are available in three styles: Dessert, Fast Food, and Sushi.

Can't live without it?
Smash that 'Add to Cart' button!
Burning Questions: You Ask, We Answer
Your questions that have been answered by the Vat19.com staff:
Sort by: Show Only:
Want to ask your own Burning Question?

First, please watch the

video

to the right. It explains the Burning Question feature and answers some common questions.

Now, if there is something that you need to know about this product that we've omitted, please send us an anonymous question and we promise to answer it within 1 business day.