Letterpress Wine Quote Coasters (set of 6)
Set of six coasters featuring hilarious and absurd wine quotes.
You may also like:

$12.99
$19.99
Overview
If you're fan of Vat19, you already know how we feel about wine snobs. So, you shouldn't be surprised that we went bananas when we saw this collection of absurd wine quote coasters.

Featuring sayings like "Wave after wave of buttery spice", we're certain you'll enjoy ribbing your favorite wine "aficionados" with this set of six drink coasters.

Remember: It's a good thing that you can't taste the subtle hints of pomegranate. It means you're not a tool.
Features & specs
Dimensions: 4" x 4"
Hand-printed letterpress
Includes six coasters
Wine snobs beware!
Descriptions of wine have become so over-the-top that wine snobs can say the following with a completely straight face: "This 2006 is a full-bodied varietal featuring a milky undercurrent of toast and an effervescent top note with hints of cucumber, tree bark, and unicorn tears."
Please. I could serve a wine snob a glass of Richard's Wild Irish Rose (a notorious "bum wine") and probably elicit a saying as ridiculously sublime as those found on our Letterpress Wine Quote Coasters. The set includes six hilarious and non-sensical sayings that you can bust out on your favorite wine snob and watch them squeal.

Knock those wine snobs down a peg with our hilarious Wine Quote Coaster Set.

"Thrusting overtones"...yep, we went there.
Each set of six coasters includes the following ridiculous quotes:
Wave after wave of buttery spice
Elegant nose with a long satisfying finish
Vigorous, well constructed, even a little bosomy
Plummy with strong thrusting overtones
An explosion of blackberries and cranberry zing
Sprightly and gay with fruity character
You must own these tout suite (that's French for "right now"), so click that Add to Cart button now!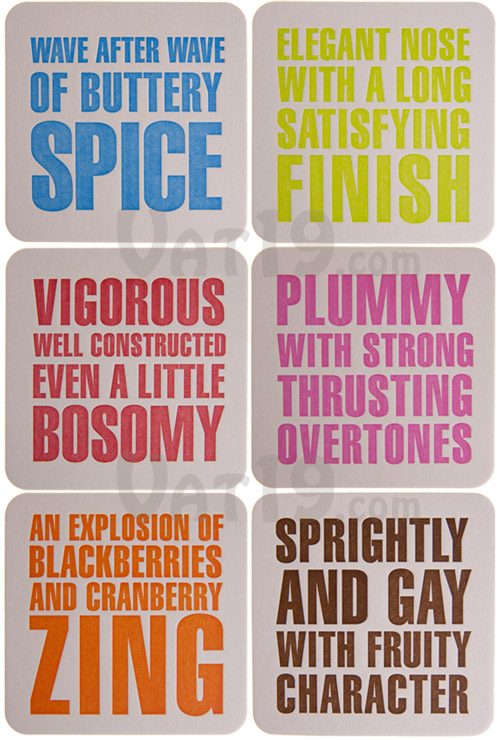 Each set of Wine Quote Coasters includes the six coasters pictured above.

This product has been discontinued. Frown face!
Sorry, but this item is no longer available for purchase.
Burning Questions: You Ask, We Answer
Your questions that have been answered by the Vat19.com staff:
Sort by: Show Only:
Want to ask your own Burning Question?
Unfortunately, this product is not currently available for purchase. Therefore, we cannot accept any new burning questions. Sorry!