Mason Jar Shot Glasses (set of 4)
A set of four miniature mason jar shot glasses.
$10.49
This item has been discontinued.
Overview
Knock back a few shots of your favorite liquors with Mason Jar Shot Glasses.

Styled after the iconic multi-purpose canning jar, Mason Jar Shot Glasses are perfectly sized for drinking liquor.

Each set includes four glasses. Hand wash only.
Features & specs
Dimensions: 2.25" x 2" diameter
Capacity: 2 ounces (65 mL)
Material: glass
Set of 4
Hand wash only
You may also like:
Because a "shot" the size of a full mason jar would probably kill you.
Mason Jars have made a huge comeback in terms of popularity over the last several years. And we're not at all surprised by this. They're inexpensive, versatile, and exude that feeling of the "good ol' days".
And now they've been miniaturized! It's true that we love to do it jumbo at Vat19, but sometimes the reverse is what's necessary. A 15-gallon mason jar, for instance, already exists. It's called a keg.
Thus, we present to you the Mason Jar Shot Glass. It's a mason jar perfectly sized for taking shots of your favorite liquor.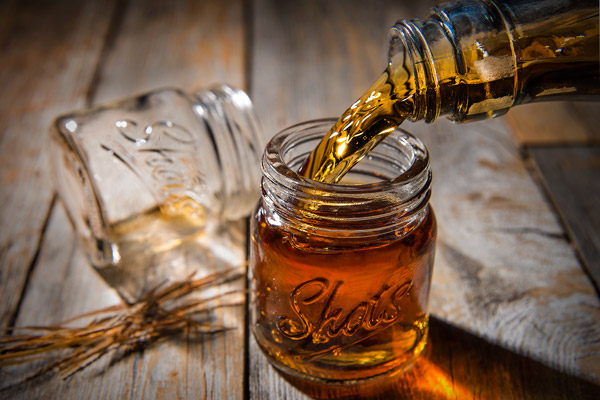 It's a mini mason jar for taking shots. We love it!
You can do more than just take shots. But you don't have to.
Don't feel boxed in by the name of the Mason Jar Shot Glass — or even the word "Shot" imprinted across the front of the jar. You can do other things with the Mason Jar Shot Glass besides take shots of liquor.
You can store your pens, for instance. Or house your tasty Jelly Belly jelly beans or small office knick-knacks. And when you're done with those pens, eaten the jelly beans, and finished with those knick-knacks, you can take another shot!

You can use your shot glasses for more than just taking shots.

Each set includes four shot glasses
You'll receive four shot glasses in each pack of Mason Jar Shot Glasses. Enjoy!

Each set of Mason Jar Shot Glasses include four glasses.
This product has been discontinued. Frown face!
Sorry, but this item is no longer available for purchase.
Burning Questions: You Ask, We Answer
Your questions that have been answered by the Vat19.com staff:
Sort by: Show Only:
Want to ask your own Burning Question?
Unfortunately, this product is not currently available for purchase. Therefore, we cannot accept any new burning questions. Sorry!
Please excuse the shameless cross promotions!