Matador Pocket Blanket
Two-person blanket fits in the palm of your hand.
You may also like:
Overview
Be prepared for your next music festival, hike through the woods, or beach trip with the Matador Pocket Blanket.

When folded up, this blanket is about the same size and weight as a deck of playing cards, making it extremely portable! When it's time to enjoy the outdoors, the blanket unfolds to a size large enough for two to relax (or just one if you really want to stretch out for that perfect tan).

The HyperLyte Nylon material keeps the blanket light and dry as well as making it puncture-resistant. Don't worry; this lightweight blanket isn't going to just blow away. The corners have built-in stakes and sewn-in sand pockets to keep the Matador in place whether you're at the park or on the beach.

When you're on to the next adventure, the Matador's easy to follow packing pattern helps you perfectly fold it back into its integrated pouch. So throw it in your backpack, glove compartment, pocket, or bag and go exploring.

*For reference: the man in the photo above is 5'10".
Features & specs
Material: HyperLyte Nylon
Weight: 3.46 oz (98 g)
Dimensions (unfolded): 63" x 44" (160 cm x 110 cm)
Dimensions (folded): 3" x 3" x 1.5" (7.62 cm x 7.62 cm x 3.81 cm)
Puncture-resistant fabric
Integrated pouch
Water repellant
Built-in corner stakes
Integrated weighted sand pocket corners
Folding guidelines
Large enough for 2 to relax or more to sit
Notes on this video
Please note that the style of the Matador Pocket Blanket has changed slightly since this video was made.
Love our videos? Please subscribe to our YouTube channel:
Big enough for a party of two
The Matador blanket has ample room for just you, but when it comes time to share, you'll find enough space to seat two adults. So go ahead and take that impromptu picnic or head down to the concert in the park.

Your tan can wait; share your space.
Small, light, and ready to go
The true beauty of the Matador blanket lies in its tiny form and lightweight material. The ultra-thin HyperLyte nylon folds into a compact square and keeps it lighter than that stuffed wallet you're carrying around.

Built for your on-the-go lifestyle.
High and dry
Even when it's not raining, the ground isn't always dry. The same material that keeps the blanket light also keeps it water repellent.
Just because the patch of campground is a little damp, that doesn't mean your seat has to be. The Matador is also extremely handy for when you spill a little of that wine you're having with your fancy picnic.

Like water off a duck's back.
Tough enough for the great outdoors
You usually don't lay your blanket on a bed of pillows. The outdoors is filled with rocks, sticks, and other prickly parts. The Matador's puncture resistant, rip-stop fabric will prevent the blanket from becoming another casualty of mother nature.

Fight back against an unforgiving ground.
Ants might spoil your picnic, but a breeze won't.
Despite its light weight, this blanket isn't going to just blow away in a slight breeze. The Matador has metal stakes built into each corner to keep your blanket tethered to the ground. The stakes are attached to the blanket with an elastic band, letting you pull the blanket taut while you relax.
When not in use, the stakes neatly tuck into their sewn-in storage to act as weights for the corners.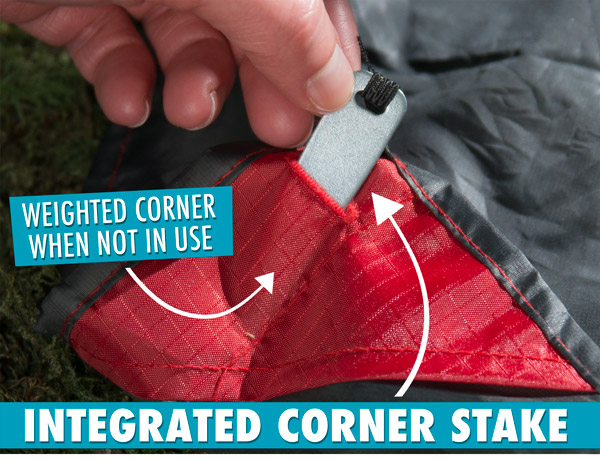 Use the built-in stakes to keep your blanket in place.
Lounge in the sand
In addition to the weight provided by the stakes, each corner has an integrated sand pocket to help hold it down at the beach. Fill the pockets with sand to provide extra weight. When it's time to go, simply shake out the sand to empty them. It's a clever way to help anchor your blanket while you're off frolicking in the waves.

A little extra somethin' in all the right places.
Perfectly folded every time
The Matador slips into its integrated pouch thanks to a precise folding pattern. The sewn-in guidelines help you get that blanket down to pocket size, step by step.

Fold it up, fold it in. Easy peasy lemon squeezy.
Where can I buy this awesomeness?
Burning Questions: You Ask, We Answer
Your questions that have been answered by the Vat19.com staff:
Sort by: Show Only:
Want to ask your own Burning Question?
This product is no longer available for purchase directly from Vat19. Therefore, we are no longer accepting new burning questions at this time. Sorry!