TurboSpoke Bicycle Exhaust System
Make your bike look and sound like a motorcycle!
You may also like:

Overview
Make nearly any bicycle look and sound like a growling motorbike with the TurboSpoke Bicycle Exhaust System.

With installation taking less than five minutes, the TurboSpoke utilizes durable "Motocards" and an effective clamping and amplification system to make your bike roar like a four stroke engine.

Each TurboSpoke comes equipped with three waterproof Motocards, which each produce a different engine sound when struck by the spokes of your bicycle. The lightweight and durable exhaust "pipe" acts like a horn to increase the volume produced by the Motocard.

Includes 15 stickers to decorate the TurboSpoke. Installation requires an allen wrench which is included. Motocard refill packs are available.
Features & specs
Fits on 95% of all bikes
Minimum wheel size: 16"
Maximum frame diameter: 1.5"
Includes 3 "Motocards" which each create a different sound
Durable Motocards are waterproof
Plastic exhaust is lightweight, durable
Installs in 5 minutes
Includes all tools required for installation
Ages 6+
Love our videos? Please subscribe to our YouTube channel:
Turn your bike into a motorbike in under 5 minutes!
The TurboSpoke Bicycle Exhaust System is like strapping a dirt bike engine onto the back of your bicycle.
Forget the pitter patter of clothespins and baseball cards. The TurboSpoke makes your bike roar and growl like a four stroke engine.

The TurboSpoke makes your bike look and sound like a roaring dirt bike.

Step 1: Attach the clamp
To install the TurboSpoke, begin by placing the clamp onto the frame of your bicycle on the side opposite of the chain. Spacers are included with the TurboSpoke to accommodate frames of different diameters up to 1.5 inches.
Position the clamp so that the pedal will not strike it when turned. You will then tighten the clamp using two sets of nuts and bolts (included, of course). Use the included allen wrench to tighten.

Begin installing the TurboSpoke by attaching the clamp.

Step 2: Choose a motocard and insert it
After attaching the clamp, choose one of the three included Motocards and slide it into the clamp. Secure it using the yellow retaining pin. This ensures that the card never comes loose no matter how hard you're pedaling.
Motocards are also sold in a 3-pack of refills. The refill pack contains one each of the same three Motocards that are included with your original TurboSpoke purchase.

Insert one of the three Motocards. Each produces a different growl.

Step 3: Insert the exhaust pipe
The final step is to insert the exhaust into the clamp. You're done! Now go make some noise.

Finish the installation by inserting the lightweight and durable plastic exhaust.

Choose from three different "engines"
Every TurboSpoke includes three ultra-durable and waterproof Motocards.
Each Motocard features a different sound. They range from the swarming bee sound of a two stroke engine (blue card) to the deep growling snarl of a four stroke (red card). The yellow card sits somewhere nicely in between.
The Motocards included with your TurboSpoke are super durable and should last you a long time. But, if they start to suffer from wear and tear due to your savage biking skills, we do have refill packs available.

The waterproof Motocards are incredibly durable. Each features a different sound.

No batteries required
The TurboSpoke system, similar to using trading cards and a clothespin, is "pedal powered". However, that's about where the comparison ends.
The TurboSpoke is orders of magnitude louder and looks infinitely cooler. The Turbospoke is to the baseball card as the smartphone is to a pair of cans and a string. They both transmit sound, but they're really not in the same league.

The TurboSpoke Clamp features a plastic retaining pin that ensures your Motocard never comes loose.

Seriously, it's loud
The TurboSpoke is loud. It will probably annoy your neighbors. And we think that's exactly the point.
The exhaust pipe, which acts like a horn, is made from plastic. This means it's lightweight, and most importantly, durable enough to withstand the punishment of being affixed to a kid's bike.

The durable and lightweight plastic exhaust pipe helps amplify the sound from the Motocard.

Decorate your TurboSpoke with included sticker set
A set of 15 stickers is included so that you can decorate the exhaust of your TurboSpoke for a customized look.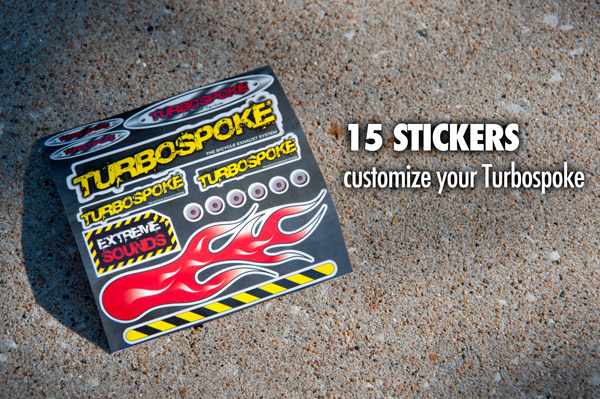 Decorate your TurboSpoke with the included sheet of stickers.

Everything included, even the allen wrench
The TurboSpoke is ready to install right out of the box. Every item you'll need is included.
Here's a breakdown of what is included: (1) Plastic exhaust, (2) Set of 15 custom stickers, (3) Motocards, (4) Rubber spacers, (5) Plastic spacer, (6) Clamp, (7) Plastic retaining pin, (8) Nuts and bolts, (9) Allen Wrench.

Everything you need to make your bicycle sound like a dirtbike is included with the TurboSpoke.

Where can I buy this awesomeness?
Burning Questions: You Ask, We Answer
Your questions that have been answered by the Vat19.com staff:
Sort by: Show Only:
Want to ask your own Burning Question?
This product is no longer available for purchase directly from Vat19. Therefore, we are no longer accepting new burning questions at this time. Sorry!