Nightball Basketball
Inflatable ball with motion-activated LEDs.
Videos

Officially sized light-up basketball

Shoot hoops anytime, anywhere

Shoot hoops anytime, anywhere

Watch video for: Nightball Basketball
Overview
Light up the court while you light up the scoreboard and start ballin' with the Nightball Basketball.

The motion-activated LEDs inside this indoor/outdoor ball illuminate when you start your game so it's easy to track your shot no matter how dark the court. Work on your jumper into the night watching the bright green ball trace fluorescent arcs through the air and into the hoop.

The cool, radioactive-like glow of the Nightball will make you want to push back your games until after sundown.
Features & specs
Inflatable ball with motion-activated LEDs
Indoor/Outdoor
Official size
Automatic shut-off when not in use
Unique matrix surface design
Material: latex-free, phthalate-free, non-toxic thermoplastic rubber
Ages 8+
Requires six LR44 batteries (included)
You may also like:
Love our videos? Please subscribe to our YouTube channel:
Illuminate and dominate
No more relying on streetlight or moonlight for your late night hoops: now your game has a glow of its own.
Bounce or hit the Nightball to turn on half of the interior LEDs. A second impact fully illuminates the basketball (which stays lit as long as you keep ballin'). You don't need to worry about the lights staying on all night; the shut-off is as automatic as Steph from the corner.
Dunk after dark
Becoming an All-Star doesn't just happen when it's convenient; it takes around the clock dedication. With the Nightball, you can work on your game anytime you get a free moment—day or night. The vibrant green glow of the radioactive rock lights up the darkness of your driveway or outdoor court so you never miss a rebound.
If you're more of a casual baller, the light-up ball is perfect for late tip-offs or those games of h-o-r-s-e where no one misses.

Like light-up sneakers except it actually serves a purpose.
Night moves
The Nightball has a style all its own. Instead of traditional leather, this ball is made from TPR materials that give it the feel of hard plastic when inflated. The ball's intricate patterned design fits the otherworldly aura of this green glowing globe. Even your airballs will look cooler.
While different in design, the Nightball is still officially sized so you don't have to alter your shooting mechanics from your daytime games. You can use it as your game ball on hardwood or asphalt and be just as unstoppable either way.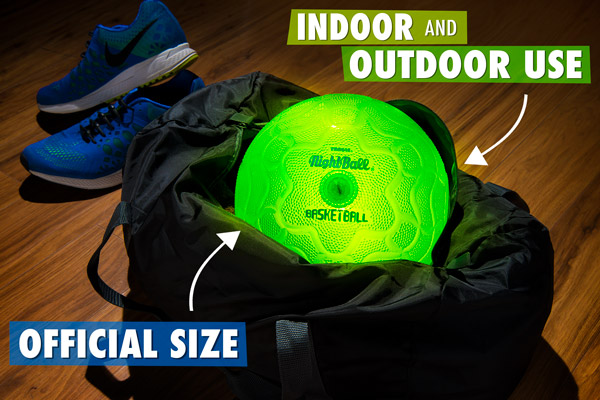 Unlike your 3s, these batteries aren't constantly drained.
Frequently Asked Questions
Question: Is this going to shut off during my elaborate free throw routine?
Answer: The Nightball's LEDs shut off after about 70 seconds of inactivity. Unless there's a replay review or a media timeout, you should be fine.
Question: So I can play an epic night game with this?
Answer: You'll be able to see the ball really well but not necessarily other players. We recommend wearing other light-up or reflective gear to avoid injury.
Question: Is this just like using a leather basketball?
Answer: The tactile sensation is different since the Nightball is made of different material. However, your playing experience should be the same since it conforms to official sizing.
Burning Questions: You Ask, We Answer
Your questions that have been answered by the Vat19.com staff:
Sort by: Show Only:
Want to ask your own Burning Question?

First, please watch the

video

to the right. It explains the Burning Question feature and answers some common questions.

Now, if there is something that you need to know about this product that we've omitted, please send us an anonymous question and we promise to answer it within 1 business day.
Please excuse the shameless cross promotions!