Mister Rogers Sweater Changing Mug
Add hot water and Mr. Rogers changes into a cardigan.
Videos

Video: Mister Rogers Heat Change Mug Demo Video
Overview
Mister Rogers, the favorite televised neighbor to children everywhere for over fifty years, graces the wall of this mug with his own smiling mug.

When you pour in a hot beverage, Mister Rogers changes into his iconic cardigan sweater. So awesome!

In addition to Fred Rogers's likeness, the wall of the mug is also adorned with a collection of some of his wisest and most inspiring quotes. So seize the day with this snappy mug. Afterall, "You always make each day a special day, by just your being you."
Features & specs
Image changes when hot liquids are added to the mug
Capacity: 12 fl. oz. (355mL)
Material: ceramic
Hand-wash only
Avoid the microwave
You may also like:
Welcome to this neighborhood, neighbor!
If you've ever watched Mister Rogers' Neighborhood, you know the authentic warmth and care Fred Rogers brought to millions of children's living rooms. Experience the warmth of a morning with Mister Rogers again when you pour a hot drink into this mug.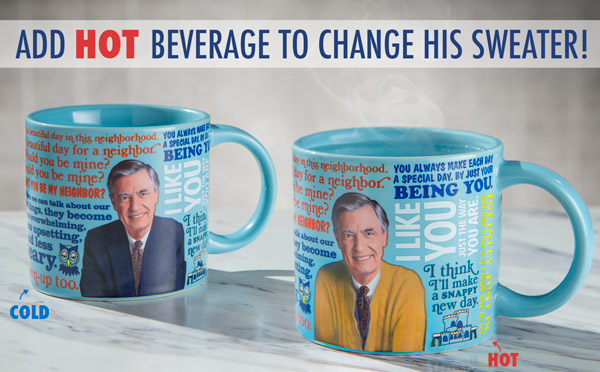 I have always wanted to have a neighbor just like you.
It's like having a very special and very old friend come to visit after a long time away.
You've seen Fred Rogers take off his suit coat and put on his cardigan hundreds of times. Every time he performed this ritual, he did it with a genuine smile and a comforting song.
Add some hot water to this mug and relive the comforting routine. This time around, you can sing the song.
More Than Just a Happy Face
While we certainly remember the way Fred Rogers looked, it's the things he said that really made an impact.
He always knew how to express deep wisdom in a way that anyone could understand. That's why we're excited that the rest of the mug's wall is covered in popular quotes from Mister Rogers himself.

It's a good feeling to be with this mug.
Question: How long does it take for the cardigan to appear when a hot drink is poured into the mug?
Answer: The suit coat will transform into a cardigan within 30 seconds of pouring in a hot beverage.
Question: How long does the effect last?
Answer: With proper care, the heat changing elements should last forever. However, the change itself will last until the drink cools. We found that a hot beverage can keep the sweater fully drawn for about 30 minutes, but actual time depends on the temperature of your liquid and of the room.
Burning Questions: You Ask, We Answer
Your questions that have been answered by the Vat19.com staff:
Sort by: Show Only:
Want to ask your own Burning Question?

First, please watch the

video

to the right. It explains the Burning Question feature and answers some common questions.

Now, if there is something that you need to know about this product that we've omitted, please send us an anonymous question and we promise to answer it within 1 business day.
Please excuse the shameless cross promotions!