Molecube
This spatial puzzle combines solving a Rubik's Cube and Sudoku.
Videos


Challenging Sudoku-style puzzle

Molecube is available in two sizes.

Watch video for: Molecube

Video: Molecube Demo
Overview
If you're a passionate puzzler, you're always looking around for the next worthy mental test. Feast your mind on the Molecube, a brain-busting blend of a Rubik's Cube and a Sudoku puzzle that's a challenge all its own.

Each of the cube's six sides is comprised of a 3x3 grid of colored spheres. To solve the Molecube, arrange the spheres so that each side contains all nine colors.

The rows turn easily in your hands, and the pieces give a satisfying click as they set into place. Relish the challenge as you try to solve this colorful combination of classic brain teasers.
Features & specs
3x3x3 logic puzzle with colored spherical pieces
Smoothly-rotating independent axes
Ages 9+
Approx. dimensions: 2.75" x 2.75" x 2.75" (6.99 cm x 6.99 cm x 6.99 cm)
You may also like:
Love our videos? Please subscribe to our YouTube channel:
Puzzle it out
Molecube is a uniquely designed challenge that combines two of the most popular puzzles in the world. Although its appearance may seem familiar, this colorful cube has an unexpected solution.
Molecube is composed of nine different colors of spheres distributed over six sides of a cube. Instead of arranging the colors by side like in a Rubik's Cube, your goal is to have one piece of every color represented on each side. It's a problem that's easier to describe than to solve.
Mental merger
Depending on your puzzling acumen, combining a Rubik's Cube with a Sudoku puzzle either sounds like a fun challenge or two super villains joining forces.
This hybrid puzzle blends the spatial challenge of a Rubik's Cube with the logical test of a Sudoku puzzle. In the same way that a Sudoku puzzle requires you to place nine unique single-digit numbers on each line of a grid, Molecube requires you to line up one of each color on each side of a cube.
Your fingers will feel at home manipulating the rows, but your mind will need to recalibrate its strategy to solve this pretty problem.

Looks like a Rubik's, thinks like a Sudoku.
Hands-on puzzling
In addition to a robust mental workout, Molecube also gives you a way to keep your hands busy and satisfied. The round pieces present a fun tactile sensation, and the smoothly-gliding rows twirl effortlessly in your hands. The pieces click with each rotation, providing a satisfying sound as you solve it.
When not actively working toward a solution, you'll still find yourself fidgeting with this addictive toy while devoting your mind to other matters.
Available in two sizes
Ready to take your puzzling on the road? If so, grab a Mini Molecube! The keychain-size version of the Molecube features all of the same fun as the original, but in an ultra-portable size.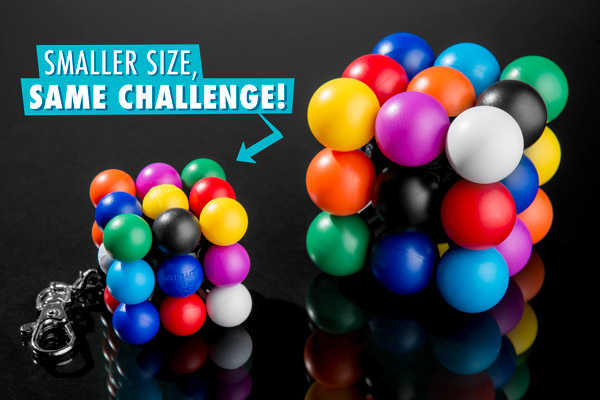 Choose your size.
Frequently Asked Questions
Question: Could you solve this like a Rubik's cube if you wanted?
Answer: Molecube does not have enough pieces of each color to fill a side with a single color.
Question: Is this harder than a Rubik's cube?
Answer: Molecube isn't meant to be harder or easier, just a different type of challenge. That being said, it does have significantly fewer possible permutations than a 3x3 Rubik's Cube. It also has 80 possible solutions instead of the traditional 1.
Question: Is this meant for underground creatures?
Answer: No, you're thinking of the classic mole cube. Molecube is pronounced like "molecule" only with a different letter near the end.
Where can I buy this awesomeness?
Burning Questions: You Ask, We Answer
Your questions that have been answered by the Vat19.com staff:
Sort by: Show Only:
Want to ask your own Burning Question?
This product is no longer available for purchase directly from Vat19. Therefore, we are no longer accepting new burning questions at this time. Sorry!
Please excuse the shameless cross promotions!