Mr. Tea Infuser
Steep your tea with the effortlessly relaxed Mr. Tea.
Videos

Watch video for: Mr. Tea Infuser
Overview
Brew your loose leaf tea in style with the always-relaxed Mr. Tea Infuser.

Load up his silicone pants with tea, perch him atop your cup, and watch as he effortlessly steeps your tea.

The dishwasher and microwave-safe Mr. Tea Infuser is the perfect gift for any lover of tea.
Features & specs
Dimensions: 4.75" x 3.25" x 2"
Material: silicone
Microwave safe
Dishwasher safe
Food safe (obviously!)
You may also like:
Love our videos? Please subscribe to our YouTube channel:
Mr. Tea is how you chill the most
In our opinion, Mr. Tea has been awarded an eternal first prize in any activity related to relaxing, unwinding, or chillaxing. Just look at that guy. He's living the dream. Oh, and he'll steep your tea and look super boss whilst doing so.

Simply watching Mr. Tea relax will chill you out as much as sipping your earl grey.
And he certainly looks great in that Scrabble® Mug, doesn't he?
Perfect companion for your afternoon tea
Brewing your tea is simple with Mr. Tea. Remove his little pants, spoon in your loose leaf tea, and rest him on the edge of your cup. Done!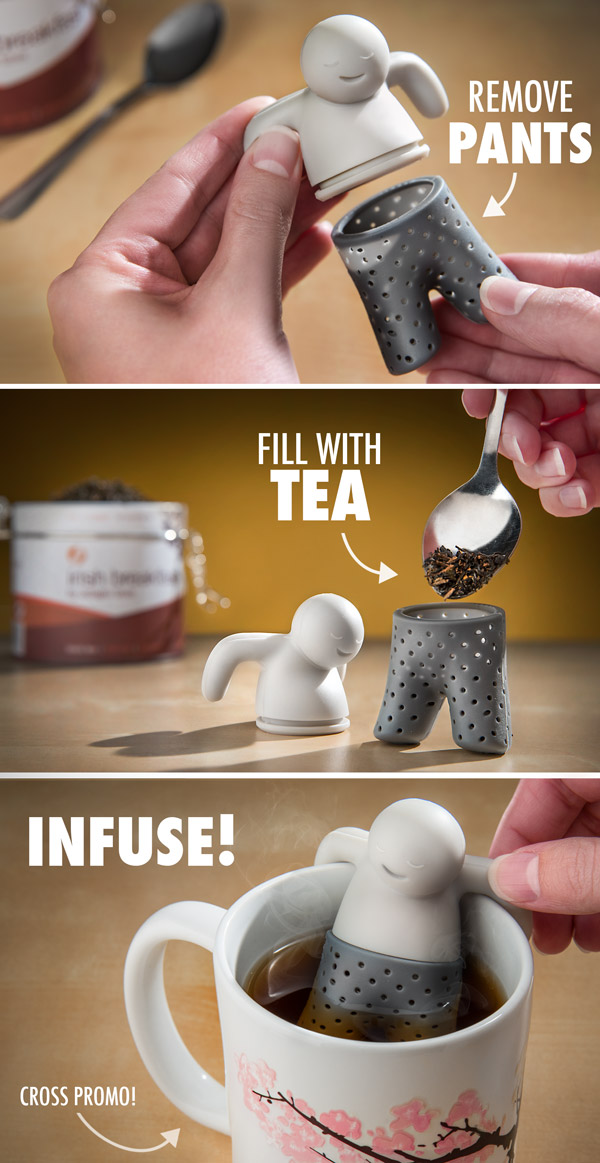 Load his little silicone pants, perch him in your cup, and brew that tea!
Yes, good eye! That is the Blossom Morph Mug.
Durable silicone construction
Although Mr. Tea looks like he's never worked a day in his life, he's robustly designed to deliver one task repeatedly: steep your tea!
His silicone body and pants are dishwasher safe, microwave safe, and can withstand temps up to 450ºF (232ºC).

Ahh... Mr. Tea is "The Dude" of tea infusers.
Where can I buy this awesomeness?
Burning Questions: You Ask, We Answer
Your questions that have been answered by the Vat19.com staff:
Sort by: Show Only:
Want to ask your own Burning Question?
This product is no longer available for purchase directly from Vat19. Therefore, we are no longer accepting new burning questions at this time. Sorry!
Please excuse the shameless cross promotions!