Paper Airplane Pushpins (set of 6)
Set of 6 metal tacks styled after folded paper airplanes.
You may also like:
Overview
These adorable pushpins may look like folded paper airplanes, but they're far sturdier.

Made entirely of metal, Paper Airplane Pushpins make for wonderful office accents.

Each pack includes six tacks.
Features & specs
Dimensions (per pushpin): 1.5" x 0.75" x 0.25"
All-metal construction
Includes six pushpins per pack
Not a toy
We demand that you love these airplane thumbtacks!
When note-holding situations don't require medieval weaponry, turn to Paper Airplane Pushpins! These adorable thumbtacks, styled after folded paper airplanes, are like kryptonite to boring office accessories.

Hold notes, photos, and reminders with Paper Airplane Pushpins.

Wimpy they are not!
Our Paper Airplane Pushpins are not flimsy or chintzy. Instead, these all-metal "flying machines" are rock solid cork-board-piercing tacks.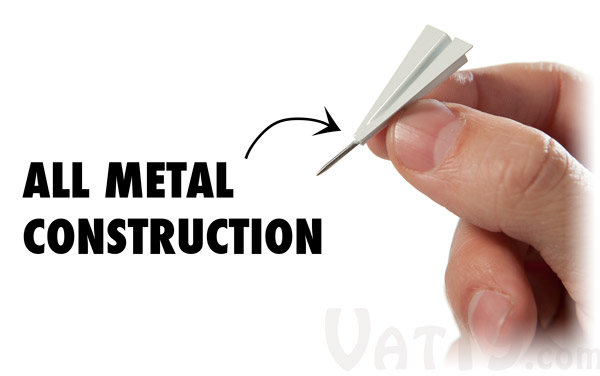 Metal construction ensures that Paper Airplane Pushpins are durable and tough.

Includes six "aircraft" per set
Each set of Paper Airplane Pushpins includes six pins.
Toss these thumbtacks in with the rest of your awesome Vat19 office accessories and you'll be one giant step closer to that coveted 9th-degree awesome-belt. With enough practice (or purchasing), anything is possible!
Note: I'm fairly certain that the picture below is our most overt cross promotion ever. Hey, we've got billz, too, yo!

Paper Airplane Pushpins come in sets of six. They play quite nicely with other Vat19 office items
such as the Boggle Pen, Smens, Jumbo Paperclips, and the Inkless Metal Pen.

This product has been discontinued. Frown face!
Sorry, but this item is no longer available for purchase.
Burning Questions: You Ask, We Answer
Your questions that have been answered by the Vat19.com staff:
Sort by: Show Only:
Want to ask your own Burning Question?
Unfortunately, this product is not currently available for purchase. Therefore, we cannot accept any new burning questions. Sorry!