The 7-Year Pen
Beautiful pens featuring a jumbo ink supply.
You may also like:

Overview
Hidden within The 7-Year Pen is a jumbo ink cartridge. This large reservoir allows it to hold substantially more ink than a traditional ballpoint pen.

The Swiss-made 7-Year Pen can write an average of 5.5 feet per day for 2,555 days (that's over 2.6 miles!) before running out of ink.

Currently, an estimated 100 million pens are discarded each day. Help reduce the waste with the environmentally-friendly 7-Year Pen.

Features super-smooth black ink and a retractable, long-life medium-point tip. Available in several styles.
Features & specs
7-year lifespan
Write 5.5 feet per day for 7 years
Super smooth black ink
Swiss made
Retractable, medium-point tip
Portion of sales donated to environmental causes
Dimensions: 5.5" x 0.375" diameter
Love our videos? Please subscribe to our YouTube channel:
The pen with the 7-year lifespan
According to the manufacturer, approximately 100 million pens are discarded every day. Dang. (Side note: I'm hoping that none of those hundo-mill are these.)
Do your part to stem the tide of discarded pens with The Seven Year Pen! Featuring a jumbo ink cartridge, the Swiss-made implement can write for miles before running out of ink.

The attractive 7-Year Pen outlasts a regular ballpoint pen by leaps and bounds.
Draws for miles!
Put your verbosity to the test with The 7-Year Pen. It's filled with enough ink that you could draw a line to the top of the Sears Tower* and back down to the ground more than four times.
The 7-year lifespan is based on writing 5.5 feet per day x 7 years = 2.66 miles (4.28 kilometers).
*Yeah, yeah, we know it's now called the Willis Tower, but it'll always be the Sears Tower to us.

The 7-Year Pen can write 5.5 feet per day for 7 years before running out.
Jumbo ink cartridge = super-long life
The secret to a long-lasting pen (and thus reducing landfill waste) is the jumbo ink cartridge!
The circumference of its reservoir is orders of magnitude larger than your standard ballpoint pen. However, the barrel of the pen isn't oversized. Basically, your typical ballpoint pen has a lot of wasted space inside of its barrel.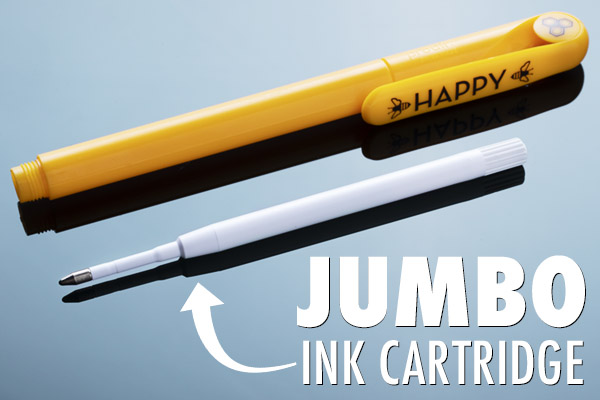 A jumbo ink supply provides the 7-Year Pen with its impressive lifespan.
Find your style
The Seven Year Pen is currently available in the following styles: music, unicorn, and bee happy!

The 7-Year Pen is available in a variety of styles (including mustache!).
Frequently Asked Questions
Question: What if I write more than 5.5 feet per day?
Answer: Then your pen may not last seven years. Think of it this way: 7-Year Pen sounds better than The 14,052-Foot Pen, don't you think?
Question: Why shouldn't I just buy a bunch of cheap ballpoint pens instead?
Answer: Because deep down you're not a wasteful person!
Question: Can I get refills for it?
Answer: We do not currently carry refills. We may do so in the future.
Question: Wait... don't you guys sell another pen that lasts a lifetime?
Answer: Great memory! Yes, the Inkless Metal Pen is amazing, but its markings look more like a pencil and it cannot write on some surfaces such as cardboard and newsprint.
Can't live without it?
Smash that 'Add to Cart' button!
Burning Questions: You Ask, We Answer
Your questions that have been answered by the Vat19.com staff:
Sort by: Show Only:
Want to ask your own Burning Question?

First, please watch the

video

to the right. It explains the Burning Question feature and answers some common questions.

Now, if there is something that you need to know about this product that we've omitted, please send us an anonymous question and we promise to answer it within 1 business day.