Brewsees Bottle Opening Sunglasses
Sunglasses with a pair of built-in bottle openers!
Videos

Watch video for: Brewsees Sunglasses
$28.99
This item has been discontinued.
Overview
Brewsees are high-quality sunglasses with two built-in bottle openers.

When the weather's warm, ditch bulky bottle openers and crack open a few cold ones with Brewsees' integrated aluminum openers.

Featuring a lightweight polycarbonate frame, 100% UV400 protection, and polarized charcoal lenses, Brewsees are amazing sunglasses in their own right.

Couple sturdy construction with anodized aluminum openers and Brewsees are sure to become your indispensable outdoor eyewear!
Features & specs
Polarized charcoal lenses
100% UV400 protection
Lightweight polycarbonate frame
Wrap-around style
Openers made from 6061 aluminum
Patented design
You may also like:
Love our videos? Please subscribe to our YouTube channel:
Bottle opening sunglasses, y'all!
Brewsees are high-quality sunglasses that feature bottle openers on each of its temple arms. When you're rocking summertime clothing, you only want to carry the bare essentials. With Brewsees, you've killed two high-priority birds (eye protection and beer-opening technology) with one amazing stone.

Brewsees combine sun protection and bottle opening into one fantabulous device!
Tough openers get the job done
Brewsees work. Whether they're protecting your eyes from harmful UV rays or cracking open a cold one, these suckers are built to get the job done. A sturdy aluminum opener is incorporated into the ends of each temple arm. Simply tuck, pry, and enjoy your drink!

A sturdy aluminum opener is integrated into the temple of the sunglasses.
High-quality frames & lenses
The designers of Brewsees didn't skimp when it came to crafting a pair of sunglasses you'll truly enjoy. The lenses provide 100% UV400 protection (which means they block out all UVA and UVB light) and are polarized (for reducing glare).
The frame is made from lightweight polycarbonate and feels very sturdy; frankly, they need to be tough in order to handle the leverage of opening a bottle cap.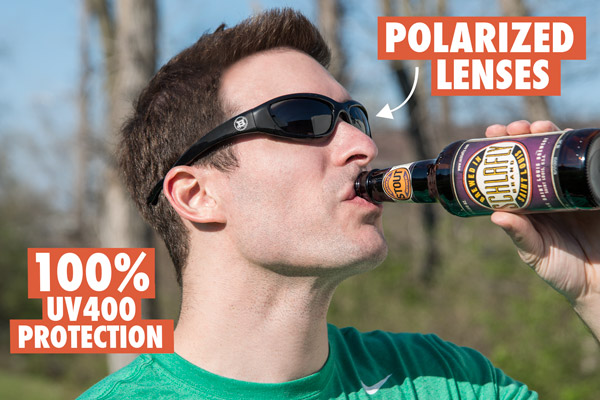 Brewsees aren't some sort of low quality gimmick; these are great sunglasses in their own right.
Sturdy, lightweight construction
Brewsees are awesome for the beach, the pool, float trips, boating, fishing, and pretty much any outdoor activity where you'll be enjoying some cold, frosty man sodas.

Good-looking sunglasses that also open bottles? Yep, Brewsees are must-have warm weather gear!
Frequently Asked Questions
Question: Will they hurt my ears or my head?
Answer: No! The aluminum openers will never come into contact with your head or ears as they are located in the center of the polycarbonate frame. The only thing touching your beautiful cranium is lightweight plastic.
Question: Won't the frames break when you try to pop the cap?
Answer: No. The temple arms are made from sturdy polycarbonate. That being said, however, you must operate Brewsees correctly. When opening a bottle, grip Brewsees close to the opener.
Question: Will they open up sodas, too?
Answer: Of course they will!
This product has been discontinued. Frown face!
Sorry, but this item is no longer available for purchase.
Burning Questions: You Ask, We Answer
Your questions that have been answered by the Vat19.com staff:
Sort by: Show Only:
Want to ask your own Burning Question?
Unfortunately, this product is not currently available for purchase. Therefore, we cannot accept any new burning questions. Sorry!
Please excuse the shameless cross promotions!