VW Kid's Pop-Up Play Tent
Fun indoor/outdoor tent in the style of the iconic '60s van.
Videos

Watch video for: VW Bus Play Tent
Overview
Playful kids can take a road trip well before they're old enough to drive with the VW Pop-up Kid's Play Tent.

The officially-licensed tent, styled after the famous T1 VW Camper Van from 1965, springs open when you remove it from its carrying case. Simply insert the four stabilizing poles, and it's ready to roll.

Constructed from waterproof, flame-resistant, and UV-resistant materials, the VW Pop-up Kid's Play Tent is equally suited for both the playroom and the backyard. Or pack it up into its adorable carrying case (it looks like a spare tire!) and take it for a spin at the beach, the park, or Woodstock.
Features & specs
Portable play tent styled like a Volkswagen van
Simple setup
Fire-resistant, waterproof, and UV-resistant fabric
Rear and side entry flaps
Front screened window
Carrying case styled after VW spare tire cover
Dimensions when set-up: 65" x 21.5" x 30.5" (165cm x 54.61cm x 77.47cm)
Recommended ages: 3+
Officially licensed
You may also like:
Love our videos? Please subscribe to our YouTube channel:
A VW Bus for the Next Generation
The iconic Volkswagen van represented an entire generation of flower children. Put a new set of children in the driver's seat with the VW Bus Pop-up Tent.
The play tent sets up in just minutes and can comfortably accommodate two small children. From the living room to the beach, this portable play tent will invoke nostalgia while providing a perfect place for kids to drive their imaginations. Groovy.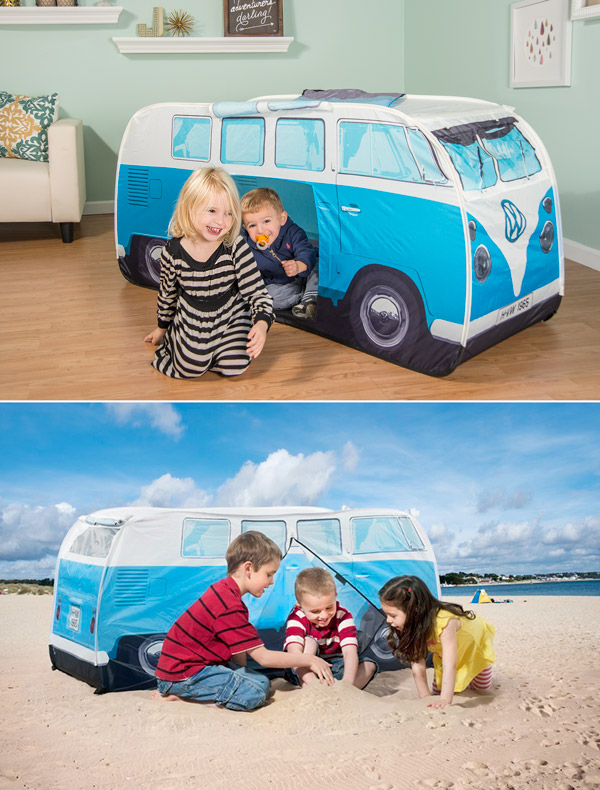 Far out.
Go ahead and kick the tires
This baby is fully loaded with features from the hood to the trunk. The tent has rear and side entry doors, a screened window at the front, and distinctive VW styling.
While features are great to have in an automobile, you also want safety to be part of that list. The VW Pop-up Tent's material is both UV and fire-resistant as well as waterproof. Its portable, flexible frame will also hold up in a playtime "fender bender".

Take it for a virtual test drive.
On-the-go Flower Power!
When you're ready to hit the road, the VW Bus Pop-Up tent goes with you. The tent folds up by twisting both ends, and the poles break down into smaller, more manageable segments.
The whole tent slides in flat into the included carrying case. When it's time to play, it springs back into action!

Road trip!
Question: Can an adult use the tent?
Answer: Our extensive tests show that while a full grown adult can fit inside the tent, it's best suited for children who can actually move around inside the cabin.
Question: Can I use this for camping?
Answer: The tent is more for play than practical camping use as it cannot be easily tethered to the ground with stakes.
Where can I buy this awesomeness?
Burning Questions: You Ask, We Answer
Your questions that have been answered by the Vat19.com staff:
Sort by: Show Only:
Want to ask your own Burning Question?
This product is no longer available for purchase directly from Vat19. Therefore, we are no longer accepting new burning questions at this time. Sorry!
Please excuse the shameless cross promotions!