Goodminton
The World's Easiest Racquet Game.
Videos

Watch video for: Goodminton
Overview
Normally, games that are too easy aren't too much fun (think bumper bowling). However, Goodminton breaks the mold because it's easy and fun!

Designed for indoor and outdoor play, Goodminton is the racquet game for everyone. Its specially designed birdies feature angled feathers which make your shots fly straight and at a consistent speed no matter how hard you hit them.

Each set of Goodminton includes two wooden paddles, two fast birdies, and two slow birdies.
Features & specs
Easy to play and ridiculously fun
Includes 2 paddles, 4 birdies (2 slow, 2 fast)
Play indoors and outdoors!
Ages 8+
You may also like:
Love our videos? Please subscribe to our YouTube channel:
With Goodminton, you'll be feeling like Roger Federer!
The secret to Goodminton's ease-of-use is the specially-designed birdies. The long feathers, angled to ensure a spiraling action, and a sufficiently-weighted rubber tip help to maintain a comfortable speed regardless of how hard they're struck. Their bright color is also easy to spot.
After extensive testing, we (along with the evil boss' 5-year-old daughter) can assure you that Goodminton is truly the world's easiest racquet game!

Goodminton has zero learning curve.
Just pick up the racquets and start playing!
Two styles of birdies = variety of gameplay
Goodminton ships with two different styles of birdies: short feathers and long feathers.
The longer feathers slow down the flight of the birdie, making it ideal for younger kids or indoor play. The short feathers allow for faster flight and are great for windier days and more advanced players.

Goodminton comes with two styles of birdies: fast and slow.
Safer than playing racquetball in your living room
Goodminton birdies are so incredibly easy to control that you can rally with someone mere feet away.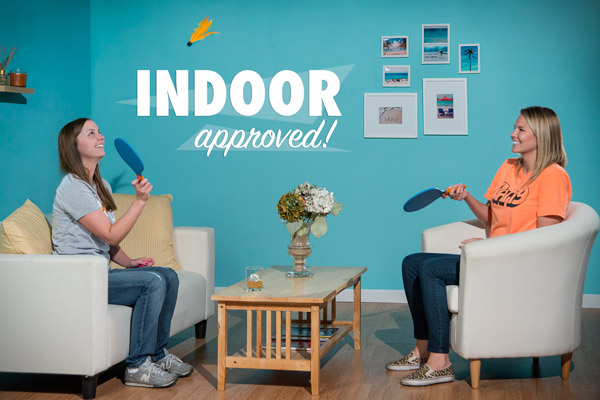 Use the slower birdies for manageable flight indoors.
Fun in a box!
Goodminton includes two paddles, two fast birdies, and two slow birdies. Anywhere you can find another willing human, you can play Goodminton!

Goodminton includes two paddles, two fast birdies, and two slow birdies.
Frequently Asked Questions
Question: How is Goodminton less evil than badminton?
Answer: Remember, Goodminton is all about ease of play. Badminton, while fun, can be a bit of a bear to setup and play. Badminton requires a net, the head of its racquets are small and the handle is long, and the mostly white birdie can sometimes be hard to see.
Goodminton, on the other hand, is super easy to setup and play. No net is required in Goodminton. The racquets have relatively big heads with short handles and the birdies are brightly colored. Plus, their long feathers deliver consistent speeds and straight flights. Lastly, Goodminton calls its birdies "birdies" and not "shuttlecocks".
Question: Where's the net?
Answer: Where you're going, you don't need nets! Goodminton is all about maintaining a long rally, so the net isn't necessary. However, the Goodminton police aren't going to confiscate your paddles if you decide to increase the difficulty a bit with a net.
Burning Questions: You Ask, We Answer
Your questions that have been answered by the Vat19.com staff:
Sort by: Show Only:
Want to ask your own Burning Question?

First, please watch the

video

to the right. It explains the Burning Question feature and answers some common questions.

Now, if there is something that you need to know about this product that we've omitted, please send us an anonymous question and we promise to answer it within 1 business day.
Please excuse the shameless cross promotions!