X-Zylo Night Flight
Light-up flying gyroscope sails 600 feet through the air!
Videos

Watch video for: X-Zylo Night Flight

X-Zylo Night Flight — Gyro + Glow Sticks x 2

X-Zylo Night Flight — Glow Sticks (2-Pack)
Overview
When the sun goes down, the fun starts flying with the X-Zylo Night Flight. Just like the original X-Zylo, the Night Flight can soar nearly 600 feet—all after dark.

Two included glow sticks light up the Night Flight and make it easy to catch—even when it's so dark you can't see your hands in front of your face!

To whip the X-Zylo incredible distances, start to throw it like a football and then follow through low and side-armed. The flying gyroscope will gain altitude like a kite in an updraft.

Playing with a friend is advised if you want to avoid several late night jogs to retrieve the X-Zylo.
Features & specs
Travels up to 600 feet (182 meters)
2 included glowsticks (8+ hour glow time)
Material: flexible plastic
Dimensions: 3.75" diameter x 2.25" height
Replacement glow sticks available for purchase
Made in the USA
Ages 8+
You may also like:
Love our videos? Please subscribe to our YouTube channel:
Two football fields worth of fun
When your friend tells you to "go long", you might want to hire an Uber for the trip back.
The X-Zylo Night Flight gyroscope can slice through the air and sail great distances with its gyroscopic spiral. With the right technique, you can hurl it to lengths up to 600 feet (longer than six blue whales).

Extreme throw and catch!
Light up the night sky
A sunset usually means it's the time of day that all of the balls, discs, and other outside toys are put away. But with the X-Zylo Night Flight, the fun is just beginning when the last bit of light sinks into the horizon.
Two small glow sticks bring brightness to this gliding plaything, allowing you to track its path in the dark. Play catch under the stars or organize a game of moonlit football. Don't let the time of day stop you from having fun!

The night sky is the limit.
Get glowin'
The X-Zylo Night Flight's glow is produced by two small glow sticks that are mounted on the inside of the gyroscope. Slots in the middle of the frame hold the sticks securely as it travels to extreme lengths.
The glow in each stick will last you all night and can even be placed in the freezer to preserve them for another outing. When the light finally does go out, available refills keep the fun going.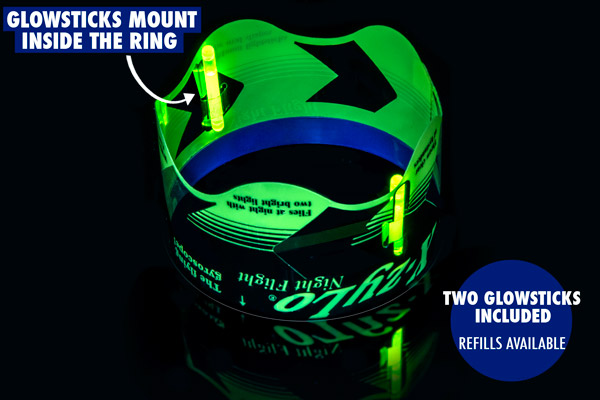 This little light of mine, I'm gonna let it shine.
Question: How long does the glow last?
Answer: The glow sticks will last for about eight hours of uninterrupted glowing.
Question: Will it travel 600 feet on every throw?
Answer: The X-Zylo can indeed travel up to 600 feet, but launching it to that length will take some practice. You'll also need the right wind conditions. Most people can throw a football 40 to 60 feet, so we are talking some serious distance here even if it doesn't reach 600 feet on every throw.
Question: Do I have to use it at night?
Answer: It certainly looks super cool at night, but you can definitely play with the X-Zylo Night Flight during the day. However, if you're only interested in daytime X-zylo-ing, check out the X-Zylo Ultra and Air Rider.
Can't live without it?
Smash that 'Add to Cart' button!
Burning Questions: You Ask, We Answer
Your questions that have been answered by the Vat19.com staff:
Sort by: Show Only:
Want to ask your own Burning Question?

First, please watch the

video

to the right. It explains the Burning Question feature and answers some common questions.

Now, if there is something that you need to know about this product that we've omitted, please send us an anonymous question and we promise to answer it within 1 business day.
Please excuse the shameless cross promotions!