Parashoot Auto-Deploying Parachute Toy
A ball-launching toy with self-opening parachute inside!
Easy to play!

Parashoot includes a launcher, a ball, and a parachute pack.
Overview
Parachutes aren't just for thrill-seekers and early childhood PE teachers anymore. Parashoot is a slingshot toy stuffed with its own 'chute so it's easy to catch your projectile.

To fire, simply loop the ball's attached rubber strap around the included launcher, pull back, and shoot it into the air. As the sphere soars through the sky, the release mechanism automatically deploys the parachute inside and allows the ball to float gently back to Earth.

This clever automatic release acts as a self-timer to ensure that your ball gets maximum flight time before the parachute glides it back down. The orb can travel up to 75 feet, so you'll have just as much fun testing your distance as you will catching its descent.
Features & specs
A projectile toy ball with a self-opening parachute
Launches up to 75 feet!
Parachute deploys after approximately two seconds
Includes parachute-filled ball and plastic launcher
Ages 8+
You may also like:
A fun flinger
Take to the outdoors with your Parashoot for safe and fun action. Start by loading the ball into the launcher by looping the rubber strap around it, forming a kind of slingshot. Next, pull the ball back, readying the toy for launch, and let go into the air. Watch as the ball soars through the sky triggering the release mechanism to deploy the parachute, allowing it to gently fall back to earth, just the way Isaac Newton intended.
Less is more
This uncomplicated toy provides hours of fun without a lot of pieces that can go missing. This aeronautical orb comes with a durable plastic launcher, and ball with the attached rubber launch band and parachute pack.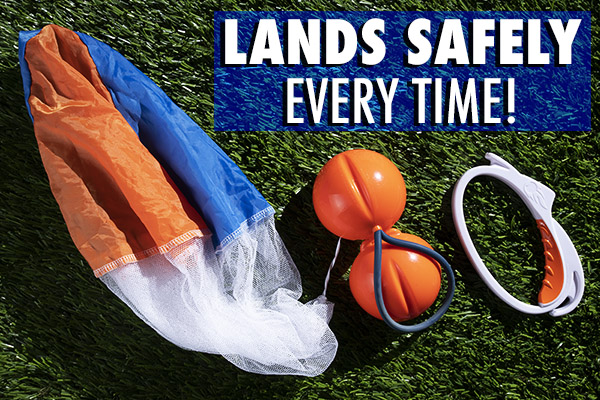 Parashoot includes a launcher, a ball, and a parachute pack.
Frequently Asked Questions
Question: Will it work in my house?
Answer: This product is intended for outside use.
Question: Can I use it to deliver secret messages?
Answer: You could, but the item will fall out when it opens. The risk is up to you.
Burning Questions: You Ask, We Answer
Your questions that have been answered by the Vat19.com staff:
Sort by: Show Only:
Want to ask your own Burning Question?

First, please watch the

video

to the right. It explains the Burning Question feature and answers some common questions.

Now, if there is something that you need to know about this product that we've omitted, please send us an anonymous question and we promise to answer it within 1 business day.
Please excuse the shameless cross promotions!