Wine Cork Candles (set of 4)
A set of four unique candles that look just like wine corks.
You may also like:


Overview
Get a little extra usage from your empty wine bottles with this set of four Wine Cork Candles. Designed to rest snugly in the top of a standard wine bottle, these candles look nearly identical to a wine cork.

Each cork candle is designed to burn for two hours. These are the perfect hostess gift and great for setting a romantic mood.
Features & specs
Dimensions: 3" tall x 1" diameter
Burn time: 2 hours per candle
Unscented
Put a (candle) cork in it
The next time you kill a bottle of wine, use it as a candle holder for your Wine Cork Candles. These realistic-looking cork candles will certainly make a statement. They may even confuse some of your more tipsy guests that the bottle is on fire (which should liven up the soiree).

Use an empty wine bottle as a candle holder for your Wine Cork Candles.

Includes four cork candles per set
Each set of Wine Cork Candles includes four candles. Each candle will burn for approximately 2 hours.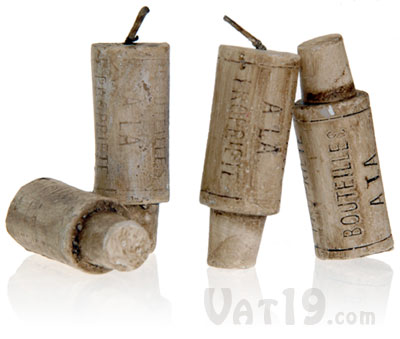 You'll receive four candles per set.

Where can I buy this awesomeness?
Burning Questions: You Ask, We Answer
Your questions that have been answered by the Vat19.com staff:
Sort by: Show Only:
Want to ask your own Burning Question?
This product is no longer available for purchase directly from Vat19. Therefore, we are no longer accepting new burning questions at this time. Sorry!