Yeti USB Heated Gloves and Slippers
Legendary warmth for your hands and feet.
Overview
Yeti USB Handwarmers and Footwarmers are anything but abominable.

While Yetis may be just a legend, it only makes sense that their furry bodies would keep them warm in the mountain snow. These furry fingerless gloves and slippers, styled after the cryptozoological beast, will keep you cozy at your keyboard while you work.

When plugged into a USB power source, select from two stages of warmth: low and high. The plush fabric screams cozy while the fearsome claws roar seriously comfortable.

And if you need to hide from trophy hunters, the detachable cords allow you to roam freely.
Features & specs
Low and high warmth settings
Cord length: 57" (144.7 cm)
One size fits most (up to men's size 12 for slippers)
USB powered with detachable cords
Material: cotton and polyester
Slipper dimensions: 12" x 5" (30 cm x 13 cm) each
Slipper weight: 5 oz. (141 g) each
Glove weight: 2 oz. (57 g) each
Glove dimensions: 5 1/2" x 5 1/2" each (14 cm x 14 cm)
You may also like:
This warmth is no tall tale
Most offices have plenty of two things: unbelievably cold air conditioning and USB ports. Now you can take advantage of both! With the Yeti USB Handwarmers and Footwarmers, you can stay legendarily warm anywhere there's an open USB port. Need to step away from the computer? Just unplug the gloves and slippers to scare away cold wherever you go.

The hardest part was not taking a blurry photo.
Big Foot got a desk job
Ever wondered why Yetis look so relaxed in every picture? Well, wonder no more. These USB Handwarmers and Footwarmers are just like a mouse, except instead of clicking on things, they keep your hands and feet warm. Not a Big Foot? Don't worry, the slippers fit just about any foot up to a men's size 12.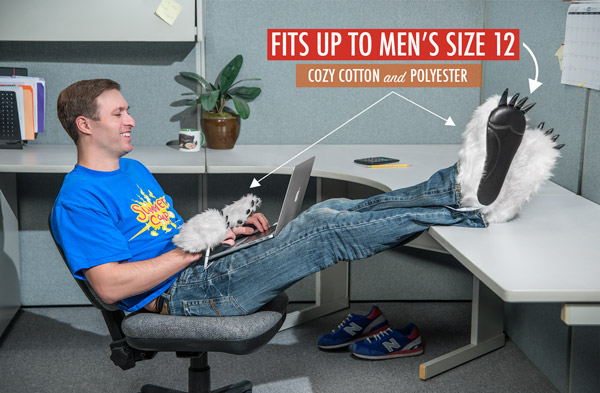 Working hard or hardly—OH MY GOD, A YETI!
Buy both the feet and the claws!
Yeti USB Hand and Feet Warmers are warm, fuzzy, and look like they belong to a mythical Himalayan mountain man. You should buy both sets (hint, hint). You don't want mismatched hands and feet, do you?

The super-soft and cozy Yeti USB Slippers and Gloves each feature 57-inch long detachable cords.
Where can I buy this awesomeness?
Burning Questions: You Ask, We Answer
Your questions that have been answered by the Vat19.com staff:
Sort by: Show Only:
Want to ask your own Burning Question?
This product is no longer available for purchase directly from Vat19. Therefore, we are no longer accepting new burning questions at this time. Sorry!
Please excuse the shameless cross promotions!