Z-Access 3D Display Frame
Uniquely display your treasured keepsakes and mementos.
Videos

Watch video for: 3D Display Frame

Please note that version shown in this video does not feature the spinning inner frame. All other aspects of the product are the same.
Overview
Showcase your favorite souvenirs in a 3D Display Frame. This unique hinged frame holds nearly any small object by securing it between two sheets of transparent film.

The film is tear-resistant and will stretch to hold items up to 5" x 3" x 2 1/2". Display a prized baseball, shells collected on a beach vacation, or family heirlooms in a truly memorable way.

The frame includes a removable stand for either portrait or landscape display. Proudly made in the USA.
Features & specs
Frame for displaying 2D and 3D objects
Inner frame spins on axle for 360º view
Display area: 6" x 4" (15.24 cm x 10.16 cm)
Outer frame dimensions: 7" x 9" x 1 1/8" (17.78 cm x 22.86 cm x 2.85 cm)
Holds up to 3 lb (1.36 kg)
Stand allows for horizontal or vertical display
Made in the USA
You may also like:
Notes on this video
Please note that version shown in this video does not feature the spinning inner frame. All other aspects of the product are the same.
Love our videos? Please subscribe to our YouTube channel:
Boast your booty
Treasure doesn't do you any good when you put it in a trunk and bury it. Instead, proudly flaunt fly balls and foreign coins alike in a 3D Display Frame. You'll be able to present a perfect view from any perspective!

Pirates hate it.
Sets up in seconds
Capturing a keepsake in the viewing window of a 3D Display Frame couldn't be easier.
Simply rotate the inside frame relative to the base and remove the securing clips. Then arrange your object(s) as you want them displayed. Finally, swing the hinge closed and securely shut the assembly with the clips.
Since the film is reusable, you can replace your display object at any time.

Easy as pie.
Film forcefield
Traditional frames and shadowboxes keep your keepsakes behind a glass window. 3D Display Frames use a revolutionary flexible film that's just as clear as glass, but hugs and suspends your object, giving your decor a new dimension.
Barring exceptionally large or sharp objects, you should be able to reuse the film to display new objects over and over again.

Welcome to the future.
Tall or wide
The frame assembly snugly fits into the base in either landscape or portrait orientation, so you can show your mementos either way.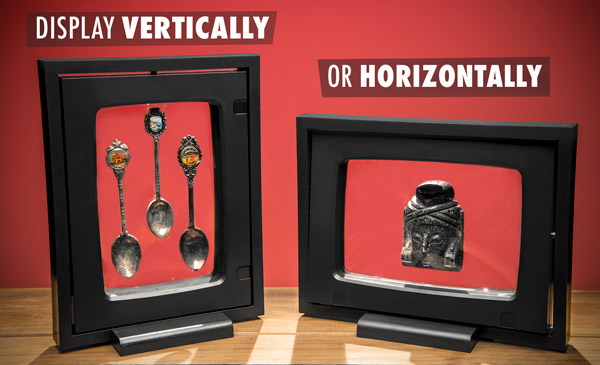 The orientation is flexible too!
Show your stuff
Open up a 3D Display Frame, dust off your most precious mementos, and proudly show them in the round. The inner frame rotates a full 360º for an unimpeded view of your valuables.
Frequently Asked Questions
Question: Can I store soft things in it?
Answer: Because the film sandwiches flat, it will apply some pressure on the object you're displaying. This pressure might smash softer items such as putty.
Question: Is it acid-free?
Answer: The manufacturer only claims the film will protect your valuables from moisture, dust, and fingerprints.
Burning Questions: You Ask, We Answer
Your questions that have been answered by the Vat19.com staff:
Sort by: Show Only:
Want to ask your own Burning Question?

First, please watch the

video

to the right. It explains the Burning Question feature and answers some common questions.

Now, if there is something that you need to know about this product that we've omitted, please send us an anonymous question and we promise to answer it within 1 business day.
Please excuse the shameless cross promotions!