Angry Little Garden Gnome
Decorate your garden with the world's angriest gnome.
Videos

Watch video for: Angry Gnome
Overview
Increase the awesomeness of your garden with the Angry Little Gnome.

Not only is this garden gnome carrying a Tommy Gun, but his stone perch features the famous Scarface quote, "Say hello to my little friend".

We've tried, but we can't think of anything more perfect for a garden. Enjoy!
Features & specs
Dimensions: 9.5" x 6" x 4"
Super, duper angry
You may also like:
Love our videos? Please subscribe to our YouTube channel:
Say hello to our little friend!
No, your mixed green salad was not spiked with hallucinogenic mushrooms. We are indeed selling a garden gnome sporting a Tommy Gun with an inscription of the awesomest quote from the movie "Scarface".
You're welcome :).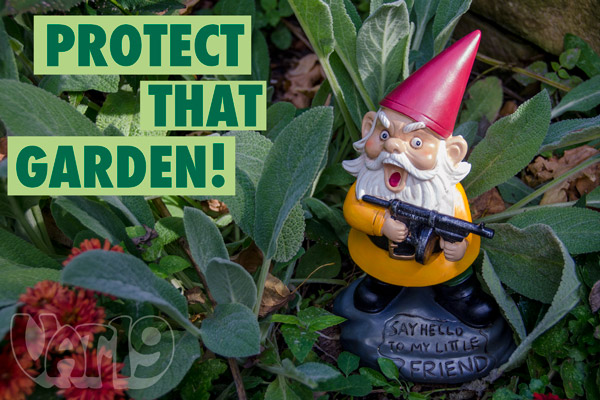 Dispense a pinch of irreverent spice upon your garden with an Angry Little Gnome.
Yeah, he's packing heat
Deer and chipmunks aren't so super cute when they munch on the fruits of your gardening labor! Add a friendly reminder to your nature friends that you mean business with the Angry Little Garden Gnome.

At Vat19, we protect our flower beds with a submachine gun-toting garden gnome.
What's protecting your garden?
This is how Tony Montana gardens
Your lawn ain't no joke. Elevate your street cred amongst the garden club with the Angry Little Garden Gnome.

First, get the money. Then when you get the money, you get the gnome.
Then when you get the gnome, then you get the baddest garden.
Frequently Asked Questions
Question: Who's Tony Montana?
Answer: The star of the 1983 movie "Scarface". He is also an avid gardener.
Where can I buy this awesomeness?
Burning Questions: You Ask, We Answer
Your questions that have been answered by the Vat19.com staff:
Sort by: Show Only:
Want to ask your own Burning Question?
This product is no longer available for purchase directly from Vat19. Therefore, we are no longer accepting new burning questions at this time. Sorry!
Please excuse the shameless cross promotions!