Animal Cracker Soap
Set of 12 soaps that look like delicious animal crackers.
$5.99
This item has been discontinued.
Overview
Made with moisturizing ingredients, Animal Cracker Soaps look just like the real thing. And with their amazing cookie scent, they smell just as delicious.

Perfect for hand washing and even bath time, Animal Cracker Soaps make for a great gift, party favor, or even something special for yourself.

Each set of 12 is made by hand in the USA.
Features & specs
Dimensions (per soap): identical to a standard animal cracker
Made with moisturizing shea butter
Cookie scented
Made by hand in the USA
Includes 12 soaps per set
You may also like:
Adorable soaps = great gift = splendid return gift karma
It's important to give friends and family awesome gifts for two reasons. One, it is your responsibility to keep Vat19.com in business. We certainly can't do it on our own! Two, the better the gifts you give, the better the gifts you will receive.
So, it's simple logic that if you want your Mom to buy you this, that you should get her something adorable (like these Animal Cracker Soaps!).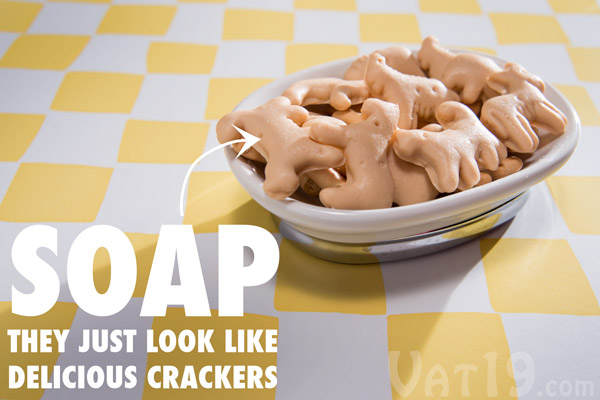 Made with moisturizing shea butter, Animal Cracker Soaps are a wonderful party favor or hostess gift.

Looks (and smells) just like the real thing!
Soaps that look like something else are the gift-giving equivalent of puppy dog eyes. They're cute, adorable, and work like a charm every time.
Anyone who has ever tasted the pure glory that is an animal cracker will love these nearly identical soaps. In fact, they're even scented like cookies for added realism.

Animal Cracker Soaps not only look just like the real thing, but they smell like them, too!

Each set includes 12 "cookies"
Animal Cracker Soaps are hand made in the USA and include twelve critters per set.

Animal Cracker Soaps are packaged in sets of twelve.

Frequently Asked Questions
Question: Are they scented?
Answer: Yes! They are cookie scented.
Question: Can I eat them?
Answer: Technically, yes, you could. Whether or not you should eat them is a different story. Since they are soap and not food, we think the answer is obvious.
Question: What are the ingredients?
Answer: Sodium Cocoate, Glycerin, Propylene Glycol, Water, Sorbitol, Sodium Stearate, Myristate, Shea Butter, Titanium Dioxide, Fragrance Oil, Soap Color
Question: How many are there in a set?
Answer: Twelve.
Question: Seriously, is giving these to someone really the equivalent of winning a wish from a magical genie?
Answer: Yes! If you can resist buying them for yourself, we can't imagine why the gift recipient wouldn't thank you by giving you whatever your heart desired (including a year's supply of cereal marshmallows).
This product has been discontinued. Frown face!
Sorry, but this item is no longer available for purchase.
Burning Questions: You Ask, We Answer
Your questions that have been answered by the Vat19.com staff:
Sort by: Show Only:
Want to ask your own Burning Question?
Unfortunately, this product is not currently available for purchase. Therefore, we cannot accept any new burning questions. Sorry!
Please excuse the shameless cross promotions!