Aquabot Water Bottle Sprayer
Versatile and unique high pressure water bottle.
Videos

Watch video for: Aquabot Water Bottle Sprayer
Overview
Aquabot Water Bottle Sprayer is a versatile active lifestyle water bottle that's both fun and functional.

Cool down under a fine mist, have a drink, and wash dishes using a pressurized jet—all with an Aquabot! Or just pump it up and start a water war, spraying wet jets up to 25 feet away.

Whether you camp, play a sport, or just enjoy getting some fresh air, Aquabot Water Bottle Sprayer can help you get the most out of your fresh water.
Features & specs
Use the nozzle as a mister, stream, or shower
32 fl oz (946 mL) Nalgene bottle
Makes water usage more efficient
Sprays water up to 25 feet (7.6 m)!
Up to 35 psi
Variable-flow trigger
Pump action
2 attachment points for lanyards
No batteries needed
Ages 3+
You may also like:
Love our videos? Please subscribe to our YouTube channel:
Powerwash in your palm!
Packing up to 35 PSI of punch, the Aquabot Water Bottle Sprayer is perfect for cleaning hands, camp gear, picnic dishes, or just about anything that might get dirty outside.
Open the nozzle and give the bottle a few pumps to produce a stream that can blast the mud off your boots so you can get back to enjoying the great outdoors.
Set it but don't forget it.
Aquabot is more than a portable firehose since the pressure is variable. To adjust the strength from stream to mist, just tighten the spray nozzle. Now you have the option to cool down on that hike. And make it leak-proof in your pack when you crank it all the way down.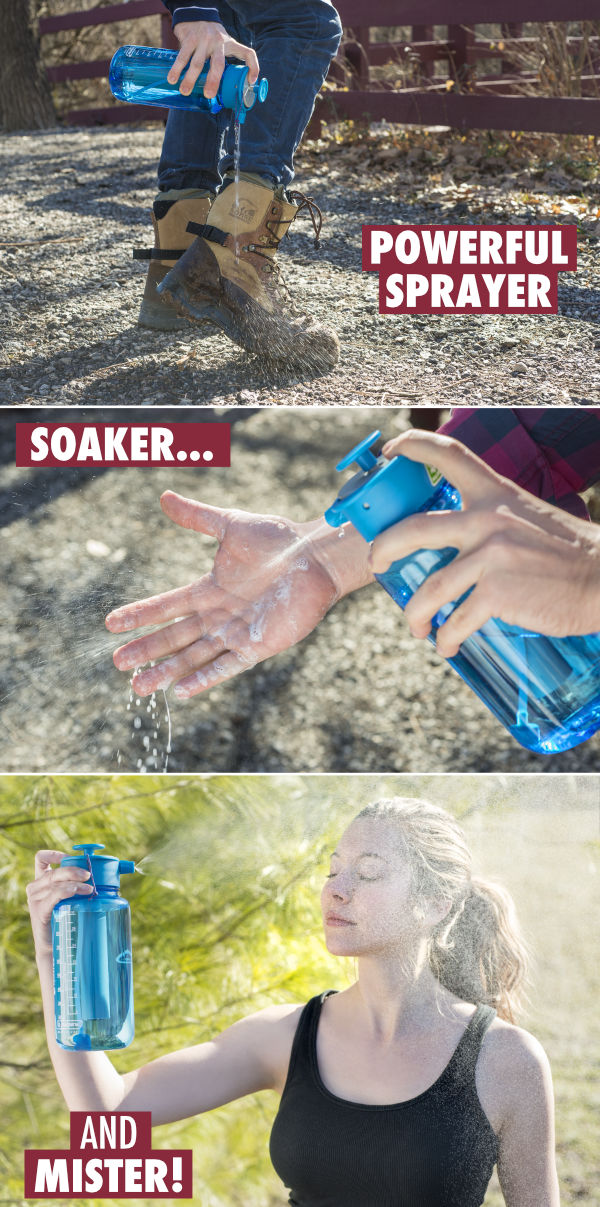 Clean off or cool down.
Water Battles Recommended
The Aquabot can propel its liquid payload up to 25 feet. We aren't going to act like it won't be tempting to hose down your friends by the lake with that much power, so we say go for it!
Locked and Loaded
While the clear advantage of the Aquabot is to spray water or simply mist it on a hot day, it's also a very functional and practical hydration water bottle.
The nearly indestructible bottle has lanyard points for easy transport and holds 32 ounces of liquid for maximum hydration.

More than just a water sprayer.
Question: Can I just drink out of the water bottle without the sprayer?
Answer: Yes, the sprayer attachment can be unscrewed so you can sip from the standard BPA-free Nalgene bottle.
Question: Why is it called Aquabot? That sounds like the name for a robot.
Answer: I know, right?
Burning Questions: You Ask, We Answer
Your questions that have been answered by the Vat19.com staff:
Sort by: Show Only:
Want to ask your own Burning Question?

First, please watch the

video

to the right. It explains the Burning Question feature and answers some common questions.

Now, if there is something that you need to know about this product that we've omitted, please send us an anonymous question and we promise to answer it within 1 business day.
Please excuse the shameless cross promotions!