MIMOBOT Designer Batman USB Flash Drives
Officially licensed Batman, Robin, and Joker 8GB USB flash drives.
You may also like:

Overview
Whether you prefer Adam West Batman, Michael Keaton Batman, or whisper-voice Christian Bale Batman, one constant remains: Batman is crazy awesome. He's got cool gadgets, loves good and despises evil, and wears an awesome costume.

Celebrate your love of all things Batman with these USB 2.0 Batman Flash Drives.

Officially licensed from DC Comics, each 8GB Batman, Joker, and Robin flash drive is loaded with digital extras including desktop, iPad, and cellphone wallpapers, Mac and PC screensavers, computer icons, and online avatars.
Features & specs
Dimensions: 2.25" x 1.0" x 0.5"
Capacity: 8 GB
USB 2.0
Included digital goodies: wallpapers, screensavers, icons, avatars
Mac and PC compatible
Love our videos? Please subscribe to our YouTube channel:
Holy awesome, Batman! Officially licensed DC Comic flash drives!
Batman stands out from the crowded universe of "superheroes" because he's just a regular guy. He doesn't possess any supernatural powers (other than loads of money for creating really cool crime-fighting gadgets), but still kicks some serious butt.
Now, you can employ ol' Bruce Wayne as your portable storage device of choice with officially licensed Batman, Robin, and Joker 8GB USB 2.0 Flash Drives.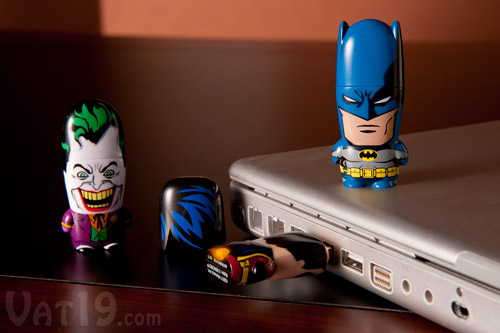 Officially licensed USB 2.0 Flash Drives available in Batman, Robin, and Joker styles.

Choose from Batman, Joker, and Robin
These USB 2.0 Flash Drives are available in three styles: Batman, Joker, and Robin.

Choose from Batman, Joker, and Robin USB 2.0 Flash Drives.

Tons of digital extras including icons and avatars
Each Batman Mimobot Flash Drive includes "Mimory" -- a collection of Batman-themed digital goodies with which you can trick out your devices. Note: If you don't like these extras, you can always remove them from the drive.
Assign the icons below to your computer's hard drive, folders, and files. Is this just the tiniest bit dorky? Yes, it's just as dorky as Steve Jobs' and Bill Gates' mountainous piles of money. Computers are cool, kids!

Trick out your computer's drives, folders, and files with Batman icons.
Use the avatars for your online profile.

Desktop, mobile, and iPad wallpapers
Each Batman, Robin, and Joker USB Flash Drive includes a variety of wallpapers for your digital devices.
In addition to three sizes of computer desktop wallpapers (1600x1200, 1680x1050, and 1920x1080), your Batman Mimobot flash drive also has wallpapers formatted for the iPad and mobile devices (320x240 and 320x480).

A variety of Batman wallpapers are available for your computer, iPhone, and iPad.

On-the-go storage with optional keychain case
Add a black keychain ProtoHoodie to your order to keep your new USB flash drive always at-the-ready. Zippered case is available in Batman-approved black.

Attach your Batman flash drive to your keychain with the black zippered ProtoHoodie case.

Where can I buy this awesomeness?
Burning Questions: You Ask, We Answer
Your questions that have been answered by the Vat19.com staff:
Sort by: Show Only:
Want to ask your own Burning Question?
This product is no longer available for purchase directly from Vat19. Therefore, we are no longer accepting new burning questions at this time. Sorry!