Beverage Life Vest
A can and bottle koozie that looks like a life vest.
You may also like:
Overview
When you're parched, an ice cold beverage is a literal lifesaver. Save your drink from lukewarm lifelessness with the Beverage Life Vest.

This totally adorable and totally practical drink device snuggles your favorite can in the safe embrace of double insulation. Whether you're out on the lake, at the beach, or just need to give more life to the party, the Beverage Life Vest will be there to keep your hand warm and dry while it keeps your cans and bottles tasting cold.

Never get caught on a float trip or other aquatic excursion without a Beverage Life Vest!
Features & specs
A koozie that looks like a life vest
Intended for cans and bottles
Keep your cans cold and your hands dry
Materials: flexible foil-laminated textile, polyester fill, nylon shell and straps, plastic side-release buckles
The side-release buckles really work!
Really floats (with closed cans)
Fits most standard bottles and cans
Beachy beverage
Buckle up for a beverage experience that will be the life of the beach party. The Beverage Life Vest is a koozie for bottles and cans that looks (and works) exactly like a life preserver complete with functional side-release buckles.
This lil' orange beauty is doubly functional: thanks to the polyester insulation and foil-laminated textile, it really keeps your cold drinks cold. And thanks to the nylon shell, it really keeps your (unopened) cans floating alongside you whether you're canoeing down the river, boating on the lake, or chilling on the shore.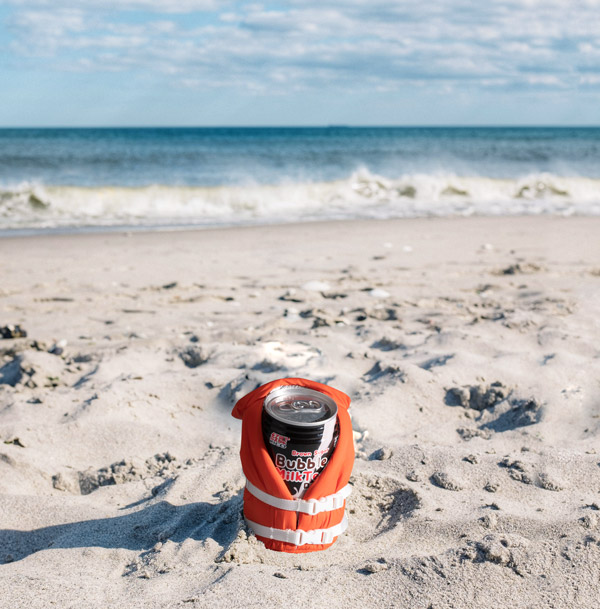 It's a real life-saver (when it comes to thirst)!
Frequently Asked Questions
Question: Does it float?
Answer: Yep! As long as your can is still sealed, the Beverage Life Vest will keep it afloat.
Question: Can I rescue my little cousin who can't swim with it?
Answer: The Beverage Life Vest is a novelty koozie and not intended as a life preserving device.
Burning Questions: You Ask, We Answer
Your questions that have been answered by the Vat19.com staff:
Sort by: Show Only:
Want to ask your own Burning Question?

First, please watch the

video

to the right. It explains the Burning Question feature and answers some common questions.

Now, if there is something that you need to know about this product that we've omitted, please send us an anonymous question and we promise to answer it within 1 business day.