Box of Chocolate Candles (set of 8 with dish)
Set of eight candy candles with ceramic burn dish.
$9.99
This item has been discontinued.
You may also like:
Overview
Even chocoholics may be fooled at first glance by the Box of Chocolate Candles. These realistic "candies" may look like delectable bite-sized treats, but they're actually candles. Even the "wrapper" is made from candle wax. So don't bite!

Each box includes eight candles, a ceramic burn dish, and traditional candy packaging. An awesome gift!
Features & specs
Dimensions (box): 7.5" x 7.5" x 1.5"
Dimensions (candle): 2" x 2" x 1.5" (approximately)
Dimensions (burn dish): 2.75" x 2.75" x 1.25"
Includes 8 chocolate truffle candy candles
Scent: delicious milk chocolate
Burn time: 3-5 hours (per candle)
Wax: paraffin
Wick: knitted fiber, lead-free
Non-toxic
Mmmm...chocolate!
Anything that looks or smells like candy is instantly beloved at Vat19. So when we saw (and sniffed!) these amazing chocolate candy candles, we were hooked.
Each box features eight candy candles (the wrapper is candle wax, too!), a ceramic burn dish, and traditional boxed candy packaging. Sweet, indeed!

The Box of Chocolate Candles look and smell like your favorite dessert treats.

Eight delicious candles per set
Each Box of Chocolate Candles includes eight scented candles like the ones pictured below. They smell unbelievably wonderful. Yes, both the "candy" and the "wrapper" are wax.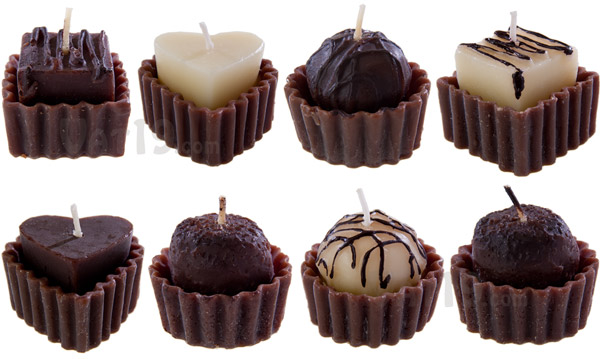 Each Box of Chocolate Candles Set includes the eight candy candles pictured above.

Burn dish included
The included ceramic burn dish makes it safe and easy to burn your candy candles.

The ceramic burn dish allows you to burn your chocolate "truffles" safely and cleanly.

Traditional candy box completes the look
The Box of Chocolate Candles wouldn't be complete without the traditional striped box, now would it? Simply add a bow and you've got the perfect hostess gift!

The Box of Chocolates Candle Set comes packaged in an old-school candy box. Yum!

This product has been discontinued. Frown face!
Sorry, but this item is no longer available for purchase.
Burning Questions: You Ask, We Answer
Your questions that have been answered by the Vat19.com staff:
Sort by: Show Only:
Want to ask your own Burning Question?
Unfortunately, this product is not currently available for purchase. Therefore, we cannot accept any new burning questions. Sorry!