BrickCase iPhone 5/5S Case
iPhone case compatible with LEGO® bricks.
You may also like:
Overview
The BrickCase allows you to turn your iPhone 5/5S into a portable LEGOr playground!

Made from high impact ABS thermoplastic, the case is 100% compatible with LEGOr bricks and similar brick systems. Turn your iPhone into a LEGOr X-Wing fighter, a race car, or anything else your imagination dreams up!

The BrickCase is currently only available for the iPhone 5 and in red. Made in the USA.
Features & specs
Compatible with LEGO® bricks
iPhone 5/5S compatible
Tough, high impact ABS hard case
Preserves access to all buttons and features
Made in the USA
Love our videos? Please subscribe to our YouTube channel:
Like any other iPhone case... but better!
The BrickCase is like most other high impact ABS plastic cases, except awesomer, since it's also a LEGO® surface! Snap bricks, minifigures, racers, houses — anything LEGO® — to the back or top of the case. Awesome!

Have fun wherever you go with the ultimate in portable LEGO® building platforms.

LEGO® is awesome. iPhone is awesome. This is a marriage made in heaven.


Rock that iPhone car!

Now that's a good lookin' iPhone case!
The BrickCase iPhone 5/5S looks great from every angle!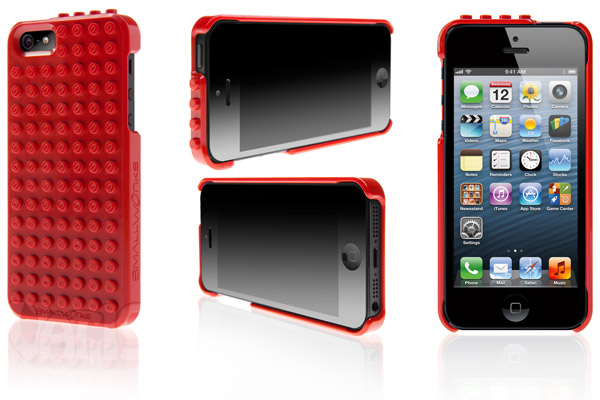 The BrickCase, like any good iPhone protector, preserves access to all of the phone's buttons and features.

Frequently Asked Questions
Question: Is the surface irritating to hold or when in your pocket?
Answer: Nope! It slides in and out of your pocket without any issue whatsoever. It's also not annoying to hold; actually, the manufacturer embedded their logo into each knob to make it easier to grip.
Question: Does the BrickCase also provide protection for my phone?
Answer: Absolutely! It's made from super-strong high impact ABS plastic.
Question: When will you have more colors?
Answer: Hopefully soon. However, red is pretty sweet!
This product has been discontinued. Frown face!
Sorry, but this item is no longer available for purchase.
Burning Questions: You Ask, We Answer
Your questions that have been answered by the Vat19.com staff:
Sort by: Show Only:
Want to ask your own Burning Question?
Unfortunately, this product is not currently available for purchase. Therefore, we cannot accept any new burning questions. Sorry!