Chip-Zel-Pop by Funky Chunky
Sweet, salty, crispy, crunchy, and chewy!
You may also like:
Overview
Featured on The Today Show and Good Morning America, Chip-Zel-Pop is an amazingly addictive snack that is simultaneously sweet, salty, chewy, crispy, and crunchy.

Featuring an amalgamation of all-natural potato chips, pretzels, and buttery caramel corn, Chip-Zel-Pop is topped off with a healthy drizzle of dark chocolate, milk chocolate, and white chocolate.

Each 19-ounce canister of Chip-Zel-Pop comes in gift-ready packaging and is made in the USA.
Features & specs
19-ounce jar
Made with all-natural ingredients
"Best thing I've ever eaten!" - Good Morning America
Nearly impossible to put down
Made in the USA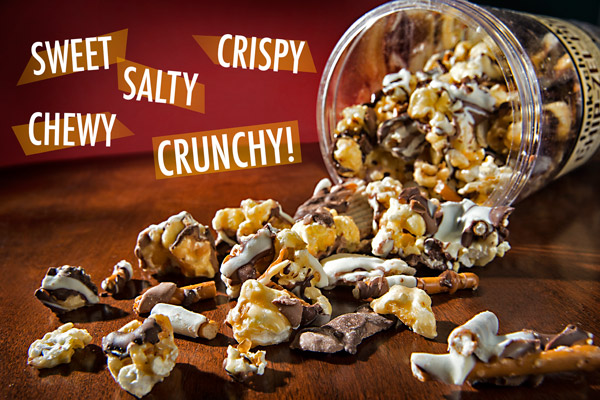 You can't stop eating Chip-Zel-Pop!
Individually, potato chips, pretzels, and popcorn are dang tasty. Combine all three under a liberal drizzle of milk chocolate, dark chocolate, and white chocolate and you've got yourself one of the most indulgent treats you've ever tasted!
And we know something about indulgence.

A glorious combination of flavors makes Chip-Zel-Pop simultaneously sweet, salty, chewy, crunchy, and crispy!
A perfect medley of flavors
Combining fun flavors and textures can sometimes be more art than science. In the case of Chip-Zel-Pop, the snack wizards have created a masterpiece.
Most bites contain equal parts salty chip, chewy caramel, sweet chocolate, and crunchy pretzel. And it all works together as deliciously as it sounds.

Indulge in a decadent mixture of pretzel sticks, potato chips,
and buttery caramel popcorn generously drizzled in chocolate.
A big, beautiful canister of handmade delicious-ness
Chip-Zel-Pop comes packaged in a large 19-ounce canister that is perfect for gifting. (Giving yourself gifts is OK, too).

Addictively delicious Chip-Zel-Pop is proudly made in the USA.
Frequently Asked Questions
Question: Where does the name 'Chip-Zel-Pop' derive?
Answer: It comes from three of the main ingredients: chips, pretzels, and popcorn. Soooo good!
Question: What is the allergy information?
Answer: Chip-Zel-Pop is manufactured in facility where peanuts, wheat, and tree nuts are processed.
Question: What are the ingredients?
Answer: Chocolaty drizzle: sugar, palm and palm kernel oil, cocoa powder processed with alkali, cocoa powder, whey, nonfat milk, buttermilk, lactose, soy lecithin as an emulsifier, vanilla extract.
Caramel corn: sugar, brown sugar, corn syrup, popcorn, butter, salt, soybean oil, coconut oil
Caramel drizzle: corn syrup, sweetened condensed milk, palm oil, water, butter, salt, vanilla extract, soy lecithin as an emulsifier
Pretzels: unbleached wheat flour, water, canola oil, malt, salt, yeast, soda
Potato chips: potatoes, sunflower oil and/or canola oil, salt
Contains: milk, soy, wheat.
Question: Hit me with the nutrition facts, please!
Answer: Serving size is 1oz (28g). Each container includes 20 servings. Calories: 130; Fat Calories: 50; Total Fat: 6g; Saturated Fat: 4.5g; Trans Fat: 0g; Cholesterol: 5mg; Sodium: 70mg; Total Carbs: 20g; Dietary Fiber: 0g; Sugars: 17g; Protein: 1g;
Question: But is it really that good?
Answer: In order to maintain our food critic street cred, we only sell the most ridiculous snacks money can buy. We're not going to put something on Vat19 that can't hold its weight up against a 26-pound Gummy Bear or Bacon-flavored Soda.
So, yeah, Chip-Zel-Pop is ridiculously tasty and oh-so-gifty! Your loved ones will surely prefer this unique snack over a fruit cake or a tin of stale cookies.
Where can I buy this awesomeness?
Burning Questions: You Ask, We Answer
Your questions that have been answered by the Vat19.com staff:
Sort by: Show Only:
Want to ask your own Burning Question?
This product is no longer available for purchase directly from Vat19. Therefore, we are no longer accepting new burning questions at this time. Sorry!